This year our class teacher is Miss Edmondson, our teaching assistant is Mrs Todaro and our learning support assistant is Mrs Friel.
This week in Year 1 - 01.07.22
This week we have immersed ourselves in learning about the famous landmarks of London. In English we have been reading 'Katie in London' by James Mayhew, where the main character gets taken on a tour around the city by one of the lions from Trafalgar Square. This book is one of a series by this author, so your child might enjoy going to the library to find the other Katie adventure stories. In History we have been learning about the River Thames; this week we focused on learning about the original London Bridge that was built in 1209, which had houses, shops, churches and gatehouses on top. Ask your child if they can tell you what happened to the bridge and which nursery rhyme it inspired.
In mathematics we have been revising skip counting in 2s, 5s and 10s in the context of being able to solve word problems and reasoning problems. The skill of being able to explain our answers and show our working out is something that we are all working on.
We have been enjoying all the musical recitals in the morning assemblies. Bravo to all our Year 1 musicians! What courage it takes to perform in front of a large audience and we are so proud of you. As a class we have been practising our part for the Oliver production and this week we were very fortunate to have Daniella come along to help us with our routine. Here is a sneak preview with the photo below...
Costumes for Oliver production
Please can you bring in your costumes for 'Oliver' on Monday 4th July - thank you!
Finally I am thrilled to be teaching this class next year. I have loved being their teacher and it fills me with joy to know that I get to share their primary school journey for another year. Thank you for all your kind words - your support means so much to me.
I hope you have a lovely weekend,
Miss Edmondson and the Year 1 team.
This week in year 1 - 17.06.22
You may have heard from your child about the book we have read this week. 'The True Story of The Three Little Pigs' subverts the traditional tale on its head and is written from the perspective of the wolf,who makes out he is innocent. The children have shown huge enjoyment delving into this book, through role play, letter writing, mask making and looking at information texts about wolves.
We have been busy measuring in maths. We have used rulers, weighing scales and perhaps most memorable, filling containers to find their capacity. The latter was very timely given the hot weather this week, as any excuse to be near cool water was welcome!
In Science we continue to learn about the seasons and we began to tentatively discuss the science behind why there are seasons. It is evident that we have some budding scientists in our classroom who could begin to explain the idea of the earth in the relation to the sun.
Green 4 Grenfell
On Thursday 16th June 2022, children and staff at St Peter's School wore something green to unite with members of the West London community to remember those who died in the tragic Grenfell fire. As a community we came together to reflect upon this fire, show our respect, and thank those who helped support people affected by the fire.
Health and Wellbeing Week
Next week is Health and Wellbeing Week and we have a fantastic range of workshops and activities for the children to take part in. We will have specialist teachers in urban dance, ballet, yoga, recycling, mindfulness and many more coming into school and teaching your child/children. It will be an amazing week!
Enjoy the sunshine this weekend!
Miss Edmondson and the Year 1 team
This week in year 1 - 10.06.22
Year 1 have had a good first week back. It was lovely to hear about what everyone had been up to during the time away. A huge thank you for your support with the Poetry Recital on Friday, both in terms of helping your child learn the poem and also coming along to watch. It was not an easy poem to learn, but the children rose to the challenge and did brilliantly. Another big shout out to the children this week for doing their phonics screening test.
Here is a round-up of the learning highlights this week…In English, we have started our unit on Traditional Tales. We looked at the unique features of traditional tales and discussed some of the phrases we often find when we read them. We will be following through this learning next week, by reading the book 'the True Story of the Three Little Pigs'.
In Maths, we revisited place value to check that we all have a secure understanding of this key concept. The children played a dice game with Dienes, where they learnt about the principle of 'exchange'. Next week we will be looking at measuring length, weight and capacity.
In RE, we have started our unit on the Lord's Prayer. We looked at the first lines of the prayer and discussed why Christians sometimes call God 'Father.'
Notes and reminders
Green for Grenfell day on Thursday 16th June.
Sports day: on Friday 17th June
Educate-Enable-Empower - Sports for Champions
Sports for Champions UK will soon visit St Peter's school. We have been invited to join a sponsored fitness circuit led by a professional Olympic athlete who will EDUCATE-ENABLE-EMPOWER the children with a view to inspiring them to be the Champions of tomorrow.
All children should have received a sponsorship form this week; the children are in for the chance of receiving some exciting gifts.
Our athlete this year will be: Pierre-Henry-Fontaine
For more information about Pierre, please visit the website below:
https://www.sportsforchampions.com/pierre-henry-fontaine/
Have a lovely weekend,
Miss Edmondson and the year 1 team
This week in Year 1 - 27.05.22
This week has been a wonderful celebration of the great community of St Peter's. The children have loved coming together with the other year groups to practise and perform their song for the Jubilee concert. Thank you to all of you for coming to watch and support us and thank you for the fabulous 60's costumes that you dressed your children in.
The children also enjoyed supporting the Year 6 class with their Enterprise Day and loved having the opportunity to spend their coins at the various stalls. The family supper was another fabulous event and a good occasion to enjoy great food and company.
In among all these events, we have been learning about writing explanations through our English text, we have been using Carroll diagrams to sort shapes in maths, finding out about the life cycles of frogs in Science and learning about welcoming celebrations for babies within the Islam religion.
We hope you enjoy the half-term break and any Jubilee celebrations in which you might be taking part.
With best wishes from the Year 1 team.
This week in Year 1 - 20.05.22
This week has been STEM week, and what an amazing week we have had! Thank you to Irene, Humera, Eleni, Conor, Philip, and Natali for coming in and sharing their STEM expertise with the children. We have been exploring architecture, boat engineering, why things glow-in-the-dark, the underlying chemistry is fluorescence and phosphorescence, climate change, cryptocurrency, and coding. It has been a jam packed week, and the children are so enthused and excited about the STEM world. We also got to use our new IPads, and explore how we can use them in the classroom to enhance our learning.
We have conducted our own experiments in class around the theme of water. We learnt about absorption, capillary action and dissolving. We found out how we can use water to open paper flowers, we can create 'magic pictures' with water and kitchen roll and we can bring about a rainbow of colours with a few skittles and a plate of water. There has been much excitement and hopefully your children have talked to you about these experiments. Maybe they have even conducted them at home.
Family Supper
St. Peter's School is excited to announce that we are reintroducing the Family Supper event; a fantastic event to celebrate our school, and the wider community. We would like to warmly invite every parent/carer, child, and member of staff to the Family Sharing Supper on Thursday 26th May 2022. This event will take place in the Scott Hall from 5pm, and will finish at 7pm.
This is a wonderful event where we can share our favourite foods, and dine together as one big St. Peter's family. This event is free and friendly, and all we ask is that you bring your favourite dish with you. There is no need to bring drinks along as both beer, wine, and soft drinks will be available to purchase. All sales from the drinks will go towards the school fund. The Family Supper is a very special St. Peter's community evening, and is a brilliant opportunity to see familiar faces, and meet new ones. It has been greatly enjoyed by all in previous years, so please do come along and bring your favourite savoury or sweet dish along with you. A gentle reminder that we are a nut free school, so all dishes must not contain any nuts.
We hope you have a lovely weekend,
Miss Edmondson and the Year 1 team
This week in Year 1 - 13.05.22
It has been such an encouragement to read the children's stories that they wrote this week. We have been reading the fantasy book 'Where the Wild Things Are' and the children were asked to imagine their own fantasy land and then build a story around their ideas, using the structure of the text that we had read. This required little prompting, since they were fully absorbed in writing about their lands of unicorns, fairies, wizards and fierce creatures amidst a backdrop of spaceships, fast cars, jungles and never-ending sweets!
In maths we have been using and applying number facts, namely, number bonds to 10 and 20, doubles and 'near' doubles. The children have played various games and activities with the aim that they gain fluency in knowing these number facts by heart. You might have heard them talk about the 'dustbin' game, which they particularly enjoyed playing and have since requested to replay on various occasions. All you need is two players, each with a grid of 6 columns and 3 rows drawn on paper, plus you will need a dice. Your child will hopefully be able to teach you this fun competitive game, which practices adding two or three numbers to total 10.
STEM Week
Next week is STEM Week, and across the school we have a fantastic range of STEM professionals delivering workshops and talks to the children. Within their classrooms, the children will be taking part in science experiments, computer based learning activities, and lots of maths problem solving activities. We are very excited to be getting out our shiny new IPads, and getting to learn how to use them to enhance our learning. Watch this space for news on how we get on.
Looking forward to seeing you all next week,
Miss Edmondson and the Year 1 team.
This week in Year 1 - 06.05.22
It is incredible that here we are in May already!
After half term the children will be taking their phonics screening test and you will see from the homework that we are busy revising the sounds that we have learnt from the start of the year. You might hear the children talking about 'alien' words. These are pseudo-words created to test a child's ability to decode words using their knowledge of letter/sound relationships.
The children are very much into learning about creatures that live around us, in our homes, gardens and parks. This week, we learnt about snails and I encouraged the children to see if they could find any. The children will hopefully be able to tell you a few 'snail facts'.
At the beginning of the week it was Eid-al-fitr, which tied in very nicely with our RE learning about Islam. We talked about how Muslims celebrate this festival.
I am sure many of you will be doing the Bridge to Bridge challenge tomorrow. The weather looks lovely so I am sure it will be a lovely community occasion.
Wishing you all am enjoyable weekend,
Miss Edmondson and the Year 1 team
This week in Year 1 - 29.04.22
It has been another busy week in Year 1. Our trip to Kew last Friday afforded us a wonderful opportunity to draw on this first hand-experience. We wrote a recount of the trip in English, looked at a map of the gardens in Geography and printed pictures of flowers in Art.
In phonics we are revisiting sounds we have previously learnt to make sure that this knowledge is secure. You will see this reflected in the homework that is being sent home on a Monday. The children are doing so well with their spellings and this week's results were particularly impressive. Thank you to parents, for supporting the children in learning the words each week. It really does help and benefit the children.
I leave you with a few photos from our trip to Kew. The children had a fabulous day and I hope they were able to tell you all about it.
I hope you have a restful and enjoyable Bank Holiday weekend,
Miss Edmondson and the Year 1 team
This week in Year 1 - 01.04.22
This week we have a guest editor, Lola from Year 1, who is going to tell us about what we have been up to.
"We have been doing phonics - the 'or' sound and the 'wr' sound. We did the egg rolling, which was exciting. In science we learnt about vertebrates and invertebrates, which was quite tricky. We had a video about the Easter story. It was good. We sang songs with Charles in church and afterwards we went to the Easter Egg raffle. It was fantastic because we won an egg."
Stem Week
The week beginning Monday 16th May 2022 will be St Peter's STEM Week. STEM Week is a fantastic way to celebrate all sciences and their importance in our everyday lives. It provides an opportunity for all children in our school to take part in science, engineering and technology events and activities. It is also a brilliant way to connect with the wider community of the school. If anyone has expertise in science, engineering and technology, or if anyone knows of any contacts in these fields, then we would love to hear from you. Throughout the week we would like to incorporate a range of workshops and talks from people within our local community.
Kew Gardens
On Friday 22nd April we have our school trip to Kew Gardens. Information about this trip, including the cost, was sent out to you by Parent mail earlier this week. We look forward to this opportunity to explore the gardens and learn about plants.
All that remains is to wish you a very Happy Easter. We hope you have a relaxing and enjoyable break.
Miss Edmondson and the Year 1 team
This week in Year 1 - 25.03.22
The highlights from this week include our visit to Ravenscourt Baptist Church to see the performance of 'A Fisherman's Tail'. The children enjoyed this high-energy musical retelling of the story of Jesus through the eyes of the fisherman disciples.
In English we have been enjoying the book 'The Way Back Home' and the children are in the process of writing their own versions of this story about friendship and acts of helping.
We have come to the end of our unit of work in History learning about Scott's exploration of Antarctica. The children have shown enthusiasm and interest in learning about this famous explorer. In RE we are continuing with the Easter story and this week we learnt about the Last Supper. This linked in well with our trip to see the theatre show.
World Maths Day
It was great to see the children have so much fun competing maths challenges against their peers in class and children around the world on Mathletics during World Maths Day! Over 9,000 schools from 130 countries took part in this year's event. It truly was a global celebration of maths and learning.
St. Peters school came 57th in the country on the day, which is a fantastic result! Well done St. Peters and keep it going!
We hope you have a lovely weekend and are able to enjoy the sunshine,
Miss Edmondson and the Year 1 team
This week in year 1 - 18.03.22
After a week like this, it is hard to summarise all the amazing experiences that we have had in Arts week. We have worked with artists, dancers and actors and met some exotic animals along the way too. A big thank you to Rose's mum and her drama workshop, to Allegra's mum for teaching us a song in Dutch with storytelling and also to Zach's mum for inspiring us with us some ballet. We have street danced, produced book illustrations and learnt how to draw and create butterflies. We have studied the work of famous artists, learnt how to improve upon our artwork and how to give positive feedback about each other's creations. Look out for the Arts Cafe next week, when you can view our work!
Here is a selection of photos to give you a flavour of our week.
Have a lovely weekend,
Miss Edmondson and the year 1 team
This week in Year 1 - 11.03.22
Thank you for your support with this week's poetry recital. I have sent out a link to you via 'Parentmail', so that you can see the performance if you were unable to be there in person. It feels so good to be returning to a more normal school life, in gathering together each day in the hall for assemblies. Pre-Covid, we took for granted the small act of being able to come together for whole school events. This week, such events have felt like fresh beginnings.
The children are enjoying learning about palm Sunday in RE, as we learn about the events in the run up to Easter. We held our own procession in class, waving our palm branches that we each made. You may well see evidence of the palm branch in your child's bag on Friday. Ask them to tell you about how the branches link to the story about Jesus.
In Science we are learning how to classify animals. This week was the turn for comparing mammals and birds. We learnt some new vocabulary like 'vertebrate' and 'warm-blooded'.
Next Monday is the start of Art's week, which we are all very excited about. We have a jam-packed week, full of things to do and see. Read next week's blog for a flavour of what happens!
I hope you have a lovely weekend,
Miss Edmondson and the year 1 team
This week in Year 1 - 04.03.22
It was such a joy and pleasure to see everyone in their World Book Day outfits on Thursday. Thank you for all your effort in finding costumes and coming along to watch our parade. We have been busy this week writing our own versions of Rapunzel and we were thrilled to be joined by an illustrator, Oguzhan, who showed us how to draw the characters for our stories.
The children showed great interest in learning about the explorer Scott and his expedition to Antarctica in our History lesson. Maybe they have told you something of this amazing journey. The children were full of questions! In science we are learning about animals, with a focus this week on the difference between amphibians and reptiles.
We have been working hard on our handwriting, with daily practice of 10 minutes. It has been encouraging to see the progress the children are making with forming letters. This is an area that we will continue to work on.
Next week is another busy week. Look out for the homework on Monday, as there will be a poem for the class to learn for our poetry recital on Thursday.
Have a lovely weekend,
Miss Edmondson and the Year 1 team
This week in Year 1 - 04.01.22
The highlight of our week for us in class was our assembly. The children did so well in learning their lines and speaking out their parts with such loud, clear voices. I, for one, was very proud of them.
We have a new collection of books for our classroom book area and the children are enjoying spending time getting stuck into them. It is wonderful to see the progress they are making with their reading. Thank you for the support at home with learning the weekly spellings, which link to our phonics; thank you also for the time that you give to the children in reading with them.
We have lots to look forward to next week, including DT day and activities linked to mental health week.
Have a great weekend,
Miss Edmondson and Year 1
This week in Year 1....28.01.22
It has been good to see our class come back together after a number of us have been at home self-isolating. The children have missed their friends and looked so happy to be reunited with each other.
We were very fortunate this week to have a visit from a Road Safety theatre group. Through watching a play, we learnt all about how to cross the road safely and the dangers to look out for. The children very much enjoyed it and hopefully learnt a lot also.
This week the children have been writing their own versions of the story 'Oliver's Vegetables'. It was so pleasing to read their finished stories, as they had all made such an effort with their writing. The story links with our science topic about plants; the children are very keen to keep track of how their own beans are germinating and growing. It looks like we will soon need to be transplanting them to bigger pots.
In maths the children have been tackling the tricky concept of multiplication. Through lots of practice with concrete resources, they are making headway with this key skill.
Another busy week to look forward to next week, including our class assembly!
Have a great weekend,
MIss Edmondson and Year 1
This week in Year 1....14.01.22
We have had a busy week in Year 1 and it has been so lovely to see how hard the children have worked and the progress that they are making. Here is a flavour of our week…
In English we have been writing our own versions of the book 'Handa's Surprise', complete with illustrations. In the process we have been learning about using suitable and interesting adjectives. In maths we have been learning number bonds and fact families. The children continue to show great interest in learning about Judaism in RE and hopefully they were able to talk about the Torah when they brought home the little scrolls that they each made in class. In Geography we have moved onto learning the names of the oceans and perhaps you have heard your child sing along to the song that we have learnt 'Pacific, Atlantic, Indian, Southern, Arctic…'. In Science the children each planted their own bean and now we will begin watching to see how they grow.
Have a lovely weekend!
Miss Edmondson
This week in Year 1....07.01.22
Happy New Year!
The children have settled back easily into the new school term and it has been a joy to listen to them share their news about what they got up to over the holidays.
We have already embarked on lots of new learning. In English we are reading 'Handa's Surprise', a story which is set in Kenya. This links to our Geography theme, learning about the world. You may well have heard your child sing a song that has helped us learn the names of the continents. Challenge your child to name all seven – I am confident they will be able to! Here is the link to the song, should you want to play it at home: https://www.youtube.com/watch?v=K6DSMZ8b3LE
In maths we have been learning about money and the equivalent value of different coins. In RE we have begun to find out about Judaism and the children's interest in this theme has been impressive.
We look forward to next week, when amongst other things, we will be planting seeds to germinate indoors.
Wishing you all a restful weekend,
Miss Edmondson
Happy Ethiopian Christmas Day - Friday 7th January 2022
Christmas in Ethiopia is called Ganna (or Genna) and is celebrated on January 7th. An important Ethiopian holiday, visitors in the country can get an insight into the religious traditions and culture of the African nation. Ethiopian Christmas is celebrated all over the world.
From all the parents, staff and children at St Peter's, we wish all those celebrating a very joyous day.


This week in Year 1...06.12.21
This is my first blog as the Year 1 class teacher and please can I say a very big thank you for the welcome I have received from the St Peter's community since arriving. It is lovely to be at the school. I have enjoyed getting to know the children and seeing you at the online parent meetings.
The children have been working hard practising their nativity. We look forward to being able to share the recorded performance with you next week.
In maths we have been learning about numbers to 50, including how to order numbers and how to represent two digit numbers as tens and ones. We will be continuing with this learning next week. In English we have been writing our own information books, linking to our theme on 'Toys'. We looked and played with a Rubik cube and then wrote some interesting facts and information about this popular puzzle. In phonics we learnt different ways to make the 'u' sound: -ew, -ue and u-e. Next week we will be revising the sounds we have been learning across Autumn 2.
On Tuesday, we had the privilege of Reverend Singa leading our morning worship. Reverend Lesinga Vunipola - known as Singa - is originally from Tonga, a Polynesian kingdom of more than 170 South Pacific islands and now, she spreads her light and faith in the Lord through Methodist ministry. The worship assembly focused on the good news at Christmas and the joy in which we receive at this time of year. She made it even more exciting by linking it to delicious chocolate – I think the staff and children were fixated. At St Peter's we are excited to see more of Reverend Singa and build relations with local schools in Tonga. She even has two children who are play professional rugby for England. Let us hope we might be able to meet them too.
I hope you all have a good weekend and I look forward to seeing you next week,
Miss Edmondson
Disability History Month 2021
What is Disability History Month?
Disability History Month runs every year between 22nd November and 22nd December.
Disability History Month supported by a wide range of disability groups, unions and voluntary groups. The aim of the month is to promote the rights of people who have disabilities and their struggle for equality now as well as in the past.
For schools Disability History month can be a chance to develop a culture of respect for difference and to remove barriers that everyone can reach their full potential.
This week in Year 1... 15.11.21
It's been another busy and fun week in Year 1! In addition to our usual work, we had the opportunity to reflect on the important message of Anti-bullying week through various activities.
On Monday, Year 1 and St Peter's School wore odd socks. Odd Socks Day was a wonderful opportunity to encourage people to express themselves and celebrate their individuality and what makes us all unique! The children did some lovely colouring of odd socks. We had a collective worship on this year's theme of Anti-Bullying week, 'One Kind Word' and we discussed how it related back to their half terms value, Service.
On Tuesday, we had our Caribbean Workshop, where the children had great fun dancing in the Scott Hall to Caribbean music and listening to stories.
On Wednesday we had an Animal Kind Workshop, where the class talked about how important it is to be kind to animals great and small.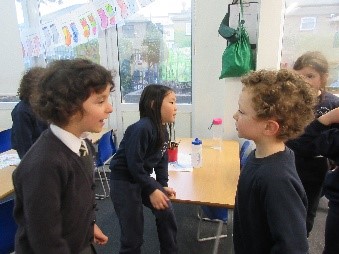 In English, we started looking at a new book, 'The tiger who came to tea'. We started off by making predictions and guessed what the characters were saying or thinking. We used our ideas to write some really creative speech and thought bubbles with question marks and exclamation marks. We then performed the story and retold it through a story map. The children showed fantastic drama skills re-creating the story and all knew the story so well. I was very proud of their performances
In Maths, we have continued finding half of numbers and shapes. We discovered that not all numbers can be halved so we carried out an investigation to find more about it. We learnt about odd and even numbers and we tried halving all sorts of things! We also looked at odd and even numbers and the children are starting to understand that even numbers all end with 0,2,4,6 and 8.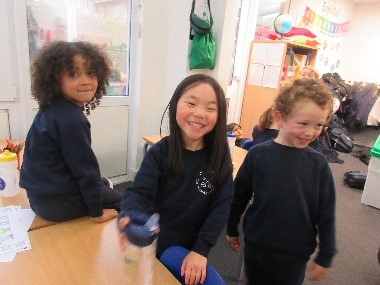 In History, we looked at Toys from the past, present and future. We discussed what toys they had when they were very little, which toys they liked to play with now and what toys they think they would like to play with in the future. A lot of the children decided that they would like to own a phone by the age of 10!!
Next week's learning:
English: We will continue our work on 'The tiger who came to tea'. We will use alliteration to create a new title for our own version of the story. We will identify different meals of the day and come up with what animals might visit us at those times (e.g. the lion who came to lunch).
Phonics: Our new sound will be /ow/ as in now and its alternative spelling is /ou/ in cloud.
Maths: We will start looking into position and movement. We will use positional language to identify where objects are (between, next to, above, under/ underneath, outside, left, right) and how they can move (one whole turn, half a turn, a quarter of a turn).
This week in Year 1
The really wonderful thing that happened to me when I was in space was this feeling of belonging to the entire universe.
-Mae Jemison
It's half term! A big well done to all the children in Year 1 for all their hard word and continuous excitement for learning this first half term: they have all been trying their very best!
This week we have been celebrating Black History Month: we learnt about Rosa Parks and her boldness to stand up for equality.
In English, we have been looking at poetry. We read and created list poems about different animals, using descriptive clues to help the reader guess what animal we are talking about.
In Maths, we looked at 3D shapes: we named and created different 3D shapes, identified what 2D shapes they are made of and tested them to see if they can roll or if they can be stacked (or both!).
In Art, we used our previous learning of mixing primary colours to paint a beautiful sunset.
Notes and reminders:
Home Learning
Our homework for half term can be accessed on tapestry. This includes our poem for our upcoming Poetry Recital Assembly, as well as some optional homework.
Interschool competitions
Huge congratulations to Cross for winning this half term's interschool competitions. Across the school, Cross performed excellently and consistently. As a result, they were awarded the highest amount of points. Everyone who took part should be extremely proud of themselves. The winning trophy will be displayed in the entrance to the school. In addition, a huge thank you to the Sports Ambassadors who helped organise the matches.
Black Books Company
On Wednesday, the whole school watched The Sun Shines on Everyone by Black Books Matter Company.
The performance was about a boy who unintentionally made a racist comment at school. One evening, he met an alien who came from a planet where everyone is the same. The student realised that this would be a boring way to live and therefore, our differences should be celebrated because we are each unique.
Finally, a huge thank you to Gairey Collins for reading Golda Locks and the Magical Rocks to the children in Year 1, 2 and 3. The children loved your story Gairey. You are a true inspiration to us all. They especially loved your expression and performance.
Lastly, I would like to thank you all for your continuous support this first half term and wish you a wonderful half term break.
Stay safe and have a lovely rest,
Miss Preece and Year 1
This week in Year 1... 15.10.21
We all come in different shapes and sizes, and that's fine by me.
-Kristin Scott Thomas
We have had a wonderful week in Year 1, full of creativity and learning! The children have been really enthusiastic about all the new things we have learnt these last five days and I am most impressed with both their work and positive attitude!
In English, we have been looking at labels, lists and captions. We have labelled Barnaby Bear, our class teddy, and also a picture of Barnaby's picnic! We have then used the picture to write simple and detailed captions and create a picnic list! The children had some really creative ideas about what to bring in a picnic and they wrote their own lists. Lastly, we explored various non-fiction books to spot examples of captions, lists and labels.
In Maths, we have been investigating 2d shapes: learning their names and identifying their sides and corners. We had great fun using the shapes to make patterns and also played guess my shape!
In Science, we have completed our materials experiment and tested which materials are best for an umbrella.
This week in English we focused on the book 'Look up' by Nathan Bryon. Rocket always wanted to be an astronaut and her hero was Mae Jemison. We created our own fact files about Mae Jemison in English and explored her achievements.
Show Racism the Red Card
'Lack of knowledge is darker than the night.'

- African proverb
On Thursday 21st October 2021, St Peter's staff and children will be wearing an item of red clothing/accessory to show solidarity for and join alliance with, 'Show Racism the Red Card'. Together we can help make the change we want to see in the world and pledge to actively eradicate prejudice and discrimination within our society. Moreover, each class will be taking part in an anti-racism lesson with their class teacher.
In-school competitions
Next week, within our usual PE lessons, we will be holding in-school football competitions where the children will compete in their house groups. The winning house will receive a trophy that will be placed in the Office entrance; a ribbon in the colour of the winning house will be attached. In addition, each member of the winning house will receive a celebration certificate. Best of luck St Peter's, let the best house win!
Have a lovely and peaceful weekend,
Miss Preece and Year 1
This week in Year 1...8.10.21
If you are really thankful, what do you do? You share. - W. Clement Stone
We had another full week in Year 1! The children have been trying really hard this week to listen and have been doing a much better job. Well done! They have been working really hard and they have produced some amazing work!
In English, we have completed our 'We're going on a bear hunt' unit. The children planned their own verse of the poem, including a new animal and a new setting. We then had an opportunity to perform our work in class! We have been really stretching our vocabulary and have made some excellent choices to describe our animal and the obstacles we found along the way. Very creative ideas, Year 1- well done! We also had a wonderful workshop on Wednesday for Poetry day.
In Maths, we have been looking at subtraction this week. The children have worked with practical resources to 'take away' , we subtracted by crossing out and used number lines to count backwards. We have also practiced reading number sentences and focused on using accurate vocabulary such as 'plus', 'minus' and 'equals'.
In RE we have discussed how each of us are made in God's image. We have shared some great ideas about looking after each other and treating people around us with kindness.
In PSHE we explored about how we are all special and all belong. We also learned about some significant black sporting icons and discussed why they might influence us.
QuadKids
On Thursday 30th September, a select number of children from Year 5 and 6 took part in an athletics tournament at the Linford Christie Stadium. A huge well done to those who took part, we placed 8th out of 19 schools in the Borough – amazing!
Black History Month
Reading is an exercise in empathy; an exercise in walking in someone else's shoes for a while. Malorie Blackman
To honour both Black History Month and this year's Olympic Games, this week we have been celebrating Black sporting icons and activists. Next week we will be celebrating Black poets and writers. Over the weekend, every class will learn and recite a poem; we will focus on poems by Maya Angelou, David Campbell and Valerie Bloom. Additionally, each year group will focus on a particular book; they will explore the narrative, illustrations, author, culture and many more features.
Reminder:
Just a reminder please bring in library books on a Friday as that is the day we change books. Unfortunately, unless the book is returned a new book can not be picked.
This Sunday is World Mental Health Day. What a great opportunity to take some time to rest and chat to your child(ren) about how important it is to look after our mental health as well as our physical health.
Have a wonderful weekend!
Miss Preece and Year 1
This week in Year 1...1.10.21
Proud to Be – Black History Month 2021
Black History Month is an annual celebration of the achievements of Black communities and the remembrance of Black history across the world.
First celebrated in the UK in 1987, the month-long festival includes educational events, exhibitions, shows, talks, memorial services and installations across London that raise awareness of history and celebrate traditions, customs and cultures.
Over the upcoming month, at St Peter's school are excited to celebrate the continued achievements and contributions of black people of African and Caribbean descent.
Our eyes see the beauty of nature. Our hearts see the beauty in each other.
-Unknown
What a creative and busy week we had in Year 1!
In English, we have been looking at 'We're going on a bear hunt' by Michael Rosen. The children worked in their tables and found actions and sounds to match the settings of the story. Then we performed the story as a class. We also did lots of work with adjectives: we described the different obstacles of the story and also the bear!
In Maths, we did lots of work with addition. We used a part-whole model to split a number into two parts and we used ten frames to make addition number sentences and bonds to 10. We also learnt how to use a number line to find the answer to an addition.
In RE, we thought about some questions we have for God about creation. We also discussed how humans are part of God's creation and shared ideas about how can we help those who might be less fortunate.
In Science, we are testing which materials are best for a house for the three little pigs: we made predictions for which materials are best for the house and then carried out an experiment. We found out brick (lego) are much better for a house than paper or pillows.
Have a restful weekend,
Miss Preece and Year 1
A simple smile. That's the start of opening your heart and being compassionate to others.– Dalai Lama
This week in Year 1...24.09.21
Ahoy ma mateys! It's a pirate's life for me!
Ahoy ma mateys! What a grrrreat week we had in Year 1! On Monday we had the most terrific 'Talk like a Pirate' day! The children came in with their pirate costumes and accessories and they were ready for adventure. We practised talking like pirates, created our treasure chests, filled with gold and gems and designed our own pirate flag.
The rest of the week was just as busy. In English, we finished off our 'Little Red Hen' unit. We used adjectives to create our own characters- I was so impressed by the wonderful word choices and imagination! We then created a story map for our alternative story of the Little Red Hen.
In Maths, we counted in 2s and found the missing numbers in a counting in 2s number line. We also learnt about ordinal numbers: we raced toy cars and labelled which car came first, second, third and fourth. We watched the Snail Olympics and recorded the results in number form (1st, 2nd, 3rd etc) and in word form.
In Science, we made predictions for our experiment of which material will be best for a house for the 3 little pigs.
National Fitness Day 2021 – Wednesday 22nd September 2021
At St Peter's we value the importance of regular physical activity to enhance both mental and physical well-being of all children. In honour of National Fitness Day, every year group took part in the daily mile, either around the school playground or around Ravenscourt Park. The children did amazingly and all tried their very best – even the teachers did! Remember, we have a weekly KS2 running club with Mr Thomas and Mr Correia, which the children can attend if they wish. There is still chance to sign up; we have some talented runners in the school.
Reminders:
Please make sure you are reading with your child daily at home and signing the yellow reading record.
Lastly, please remember that Friday is the day for Library books to be changed so please ensure the children return their book on a Friday.
Have a lovely weekend!
Miss Preece and Year 1
This week in Year 1...17.09.21
This week has been a very busy week in year 1. We have had lots of fun learning and we are getting much better at our new year 1 routines.
Monday was Roald Dahl day and we listen to the story of the enormous crocodile. The children did lots of work focusing on the book. In maths we counted the crocodiles teeth and in art we created our own enormous crocodile using green oil pastel and water colour paint.
In English, we continued our work with the Little Red Hen. We have been re-telling the story with actions, creating story maps and we have reinvented parts of the story: we shared what food we would like to grow and we have created new main characters. We came up with some great adjectives to make our title interesting for the reader! Next week, we will reinvent the story by creating new characters and a new setting! Our phonics focus for this week and next week it 'ee'.
In Maths, we continued looking at numbers from 0-20. We have used objects and number lines to find one more and one less, we have located numbers on beaded number lines and we have represented teen numbers in various ways. We have also started making numbers in ten frames and started to observe have many full ten frames we get.
In Science, we continued our work in Materials and we had a look at different textures around the classroom.
Reminders:
Monday is 'Talk like a pirate day!' and children can come in dressed as pirates (or wear something stripy).
I hope year 1 arrrrrr ready for some fun!!
Have a lovely, sunny weekend,
Miss Preece and Year 1
This week in Year 1...10.09.21
It has been a wonderful week in year 1 and the children have been settling in to year 1 very well.
In Maths this week we been focusing on our number between 1 and 20. Thank you for your lovely homework. It was great to see so many of you counting some objects around the house. We have also practiced our number formation.
In English we began to think about what key features are in a sentence. We also began to explore our class book, 'The Little Red Hen'.
In RE, we looked at the Bible story of Creation: we sequenced what God did on each day and we shared our favourite parts of Creation.
In science we became detectives to find different materials around our classroom and the school. The children are really looking forward to finding out more about our topic this term.
I hope you have a lovely weekend!
Miss Preece and Year 1
This week in Year 1...03.09.21
There is a miracle in every new beginning.
-Hermann Hesse
A huge welcome back to St. Peter's School; hope everyone had a wonderful summer. What an amazing first two days in year 1! The children are settling in really well into the learning routine of Year 1 and also their new learning environment. I am truly amazed at how well the children have been coming in and already trying their best.It has been a busy two days in Year 1! We have learnt lots of grown up things like how to sit on the carpet, how to line up and what it is like to sit at our own table. We have also learnt about each other, how to be kind to our friends, and agreed on some rules to make sure year 1 is a safe and happy place for everyone.It has been a super busy 2 days and everyone has been trying their hardest to learn our new routines. We are so excited to get stuck into our learning next week.