Welcome to Reception
Our teacher is Mrs Noonan
Our Early Years Educators are Miss Wheeler and Mrs Pond - Jones
Our Learning Support Assistants are Ms Friel and Miss Child
"You are powerful and your voice matters!"
Vice President Kamala Harris
22/01/21
Time flies when you are having fun! Another week of Home learning is done. Just as in previous weeks, I have been so impressed by the amazing learning that the children have done this week. It is so incredible to see the progress that all of the children are making, and that is down to you, parents, and all of the extra support, effort and time you are giving to help the children.
Have a look at the gallery to see what we have all been up to…
Next week
Literacy – we will be learning through the story of The Three Little Pigs this week. We will continue to use some of the same activities such as sequencing, sentence writing as we have in the previous week's learning. This allows the children to become more confident in the activity and develop upon their existing skills.
Maths - This week we are going to take a break from new learning and have some time revising things we know. We are going to do this by visiting Ten Town each day and listening to the stories of two characters each day. We will be working through the teen numbers 11 – 20 and each day will have another element of maths to revise. I think the children are ready for a week to consolidate their learning and they do love the Ten Town lessons! Each Ten Town lesson has a video and a song.
Physical Development – the weekly Yoga lesson will be shared on Tuesday and Mr Cotton will continue to lessons on Monday, Wednesday, Thursday and Friday. Our Dough Disco will be on Tuesday and dance on Thursday.
Phonics – this week we are going to be learning our first double letter sounds. These start with sounds that have the same letter making a sound i.e. 'ff' in 'huff' or 'ss' in 'kiss'
Understanding the World – Our Wednesday lesson this week will be from the 'technology' Early Learning Goal and the children will be taking part in a Photo Challenge!
Music – We are continuing with our two music lessons, on Monday there is the Oak National lesson and then on Thursday we will have a lesson from our new Music teacher.
PSED – On Friday our Personal, Social and Emotional development lesson will continue.
PE Competitions
In order to keep up our customary St Peter's sporting and competitive enthusiasm, we will be hosting some PE competitions that you can complete from the comfort of your home - how exciting!
Mr Cotton and Miss Cook will go into more detail in a video which will be shared soon regarding the competition but there are two optional competitions to enter:
How many keepy-uppies you can do without dropping the ball on the ground.
Find your favourite place in your house, garden or park (you could even Photoshop yourself onto a digital image for those tech savvy children) and perform your favourite yoga pose. Be as creative as possible.
All entries must be uploaded by Friday 5th February 2021.
Please use the Tapestry activities to upload your pictures or videos and enter the competition.
In you have any queries, please contact communications with the subject as: FAO Miss Cook
PS - parents and teachers you can get involved too...
We will select a KS1 winner, a KS2 winner and an overall House Winner (house with the most total points).
Best of luck St Peter's
Class Chats
Next week we will be adding a daily session to the timetable of 'Class Chat'
To give the children a chance to talk to each other and for me to be able to catch up with the children in a smaller group (compared to our Register and Story time sessions) we are going to be holding some 'Small Group Chat' sessions. These will run from Monday – Thursday between 2.45 – 3pm so we can join the Story time session at 3pm with the rest of the class.
The main aim of this session will be to give the children a chance to see some of their classmates and a chance to talk to them. I will lead the conversation and give each session a small focus.
Our first week will be – Show us your favourite Christmas present or toy!
I've seen the children showing lots of their toys during our story times so I thought this would be an engaging start to our chats.
I will include a separate link on the weekly timetable on Google Drive for these sessions.
Please check in the letter shared with parents on Friday through parent mail to see which day your child's session is.
Have a lovely weekend,
Mrs Noonan
Run, run as fast as you can you can't catch me…
The Gingerbread Man
15/01/21
Another amazing week of home learning from Reception! We have been talking in our morning register meetings about our school value of perseverance and not giving up. This week I think we were all starting to feel that the novelty of learning from home may have lost its shine and that the new routine was now well embedded but getting trickier to keep persevering at. But, the children have really risen to the challenge! The work they have been producing has been outstanding and they have all tried their best…which is all we can ask for!
The Gingerbread Man
The children have really enjoyed exploring the story of the gingerbread man. They have been listening carefully to the story, learning the repeated phrases and writing sentences based on the story. I think the children enjoyed the lessons where they could act out the story the most. I think we have some future Oscar winners in the class! The children then also changed the story of the Gingerbread man and added their own characters to the story. The Gingerbread Man went to visit places and animals in jungles, the zoo, and the artic and even met some dinosaurs!
"Money, Money, Money…its so funny!"
Abba
Our Maths learning has been all about Money this week. We have learnt how to recognise the coins and their values, add coins together and how to pay for items at the shop. The children had a go at making their own shops at home and selling lots of different items to their families!
On top of all that amazing learning we have also been taking part in Mr Cotton's daily PE lessons, having some dough discos, learning about the Miracles of Jesus in our RE lessons and a highlight of our week was also Mr Alex's music lesson which was thoroughly enjoyed my the children, their siblings and parents alike!
Thank you Buddies
As our buddies are also at home working hard we were so pleased to see some of them (virtually) this week as they had made a video for us of them reading us some stories. It was the perfect Friday treat and we loved seeing our buddies! Thank you!
Next Week
We are going start a new story in Literacy…I'll give you a clue – she loves porridge! Our number work will be learning all about doubles and we will continue to have our afternoon sessions including learning about a new story of Jesus' miracles.
I hope you all have a lovely weekend and get outside for some fresh air and have a big rest ready again for next week!
Mrs Noonan
"One child, one teacher, one pen and one book can change the world"
Malala Yousafzai
08/01/21
Happy New Year!
Our first week of Home learning is finished! What super stars the children have been. I have been so impressed by their resilience and adaptability to be able to get used to our new normal. I have loved being able to meet with you all, virtually, at the beginning and end of each day – it is so lovely to be able to see the children's smiley faces and to give them a chance to say hello to each other and keep connected.
Normally in my blogs I now tell you all about what we have been doing all week – but you know this inside out this week. I'm sure you will agree with me that the children have created some excellent work this week. I know that there will be some lessons that the children find easier than others and some that they will find more challenging, but all I ask as ever, is for the children to try their best. On some days that best might look quite different from other days, as with all of us, the children will have good days and days when they are more tired.
Thank you so much parents for your amazing efforts in uploading onto Tapestry the children's work and updates on what they have been doing. It is so encouraging to still be able to witness the children's progress. I love seeing all of the updates. I have to say I think my favourites this week were definitely the retelling Little Red Riding Hood videos, some of the starring roles made by pet cats playing the part of the Big Bad Wolf but a huge smile on my face!
Next week we will be moving onto a new traditional tale – The Gingerbread Man. So expect lots of "run, run as fast as you can!". We will be following a similar format the this week with reading the story, learning to retell it and creating some writing focused on the story. Our maths work will be looking at money. The children need to understand what money is used for, recognise some coins and then be able to add small coins together. The phonics next week is going to be a revision week. This weeks lessons included a lot of new sounds so I want to give the children a chance to revise these sounds and others they have learnt, we will also be revising some of the trickier everyday words. Our RE will be focused on the 'Miracles of Jesus' and learning of through some of the stories of the miracles he performed. Our physical education will continue with some more yoga, a dough disco and Mr Cotton's live PE lessons.
On Friday I will email you all the link to the Google Drive for the work and recorded videos for next week and the timetable for the week.
I hope you all have a restful, enjoyable weekend. Thank you again for all your hard work this week and I look forward to seeing you at the register google meet on Monday morning.
If there is anything else I can support you with or any questions or queries then please do not hesitate to get in contact.
Have a lovely weekend,
Mrs Noonan
"Little Donkey, Little Donkey on the dusty road…"
Reception Class
18/12/20
Merry Christmas Everyone!
Firstly, I have to say a huge well done to all the children in Key Stage 1 and Reception for their fantastic performance of the Nativity 'Midwife Crisis' the children all spoke sang and danced brilliantly and shared the message of Jesus' birth to all of us. Reception sang their songs so well and really enjoyed joining in with the singing and actions throughout the show. I hope you all enjoyed watching the video of the show at homes and sharing the joy of a nativity with your families.
Christmas Service
On Friday, we watched our Christmas service from Charles in class. We loved listening to our Year 6 buddies sing the beautiful carols and watching our friends read the Christmas prayers.
Father Christmas at the Lyric
During our party day we thoroughly enjoyed watching the recorded performance of Father Christmas by Raymond Briggs. Although this is usually a performance we enjoy live at the lyric it was excellent to provide the opportunity for the children to watch the stage performance in school.
Lunch times
Following our brilliant and delicious Christmas lunch on Monday the reception children have been able to start having their lunch in the hall. We are still remaining within our own bubble and the class are continuing to be looked after by the Reception team but we are now able to go and enjoy our lunch in the hall. This will continue in the Spring term.
Next term
Our theme for our learning next term will be 'Traditional tales'. We will be using these tales to focus our learning across all of the areas of learning. So expect a lot of big bad wolves, run, run as fast as you can and watch out for giants coming down the beanstalk!
Finally, I would like to share a message from the whole reception team. A huge thank you for your generosity, your kind words and gifts are greatly appreciated. It has been a very unusual first term, one unlike any other, but your children have brightened each and every day and have been a pleasure to get to know and teach.
I hope you all have a peaceful, fun Christmas break – with lots of rest (I think we all need it!)
Have a lovely Christmas and Happy New Year!
Mrs Noonan 🎅
"Maybe Christmas doesn't come from a store, maybe Christmas means a little bit more…"
The Grinch By Dr. Seuss
11/12/20
On Thursday, the children took part in the filming of the nativity show 'A Midwife crisis'. They were true professionals! Even under the spotlights and cameras their signing was truly amazing and they all had such a good time and quite a unique experience for their first nativity at St Peters. I cannot wait for you all to see the final production next week!
As well as rehearsing this week the children have been in full creative Christmas mode in class. We have been making some special cards and presents that will be coming home next week. We all looked fantastically festive on Friday wearing our Christmas jumpers, thank you for all of the donations towards the Children's charity. Have a look at some of the Christmas activities we have been up to...
Can you believe it is the final week of term next week? The children are already a third of their way through the year. And what a brilliant term it has been! One more very busy week to go…
Next week is going to be a very festive one!
On Monday, we will be having our Christmas Dinner! The children will be going to the hall to join in with their Christmas lunch and I am sure Chef Andrew has some tasty treats in stall for us!
We will be continuing to learn about the Christmas story and creating some Christmas crafts in our classroom.
On Thursday, we will be having our party day! The children can come into school in their Christmas Party wear (any clothes they would like to wear to a party!) and we will be enjoying a fun filled day. We will be watching the recording of the 'Father Christmas' by Raymond Briggs show in the hall, and then having some party games, dancing and boogieing in the classroom in the afternoon – I can't wait to see receptions dance moves!
Have a restful weekend – we will need a lot of energy next week!
Mrs Noonan
"Stick man, I'm Stick man that's me…"
04/12/20
We have loved learning this week and all of our work has been focused on 'Stick man' by Julia Donaldson. We started by listening to the story and looking at the order of when things happened to the poor stick man, we then used the sticks to do some height ordering from longest to shortest. Then we used the sticks to practise our positional language. After that we did a little bit of magic with googly eyes and PVA glue to turn a normal stick into a real stick man! The children were very creative with their designs.
Then on Wednesday morning, we went to Ravenscourt Park for a 'Stickman Adventure' and explored the park with our stick men. Before our trip on Wednesday, Year 6 learnt the whole book and performed it to us (socially distanced in the playground) we loved listening to our buddies perform the story!
Then when we arrived at the park on Wednesday we explored and found adventures all over the park! The children behaved beautifully and were a credit to St Peter's.
On Wednesday and Thursday, our focus was all about being a good friend. We spent some time rotating between some special friendship activities and choosing special friends to play with, we also tried to have turn playing with different people that we usually do. The children were all exceptionally kind to each other and are really starting to create some special friendships with many children in the class.
Our classroom is looking particularly festive at the moment! Our Christmas writing area has lots of resources to help make cards to send to our friends and the post box is getting very full of our creations. We also have a Christmas home corner, complete with our own tree to decorate!
Movie Night
We had an excellent time on Thursday night for Movie Night. A bit different this year being in our classroom, but we had so much fun. The children loved the film….and the snacks!
Don't forget…
Our virtual Christmas fair is this Saturday!
Nativity update
Thank you so much for the hard work you have all being doing in practising the songs at home – please keep practising over the weekend so the children are ready for the recording later on next week.
Costumes – if you haven't already please bring in your costumes as soon as possible.
Next week
Our week next week will be particularly focused on getting ready for performing our nativity songs, including chances for us to go and practise on the real stage! We are also going to getting some Christmas crafts and cards ready but they are a surprise…so I can't tell you much about them!
Next Friday is the Christmas jumper day in school for 'save the Children' so please come to school in your best Christmas attire!
Mrs Noonan
"Superworm is super strong, Superworm is super long"
Superworm by Julia Donaldson
27/11/20
Our learning this week has been busy, busy, busy! Our math's work has been focused on addition. The children have learnt the concept excellently finding all different ways to add objects together. Our favourite has been using our numicon counters to add amounts together.
This week we started to use our writing books to use all of the great phonics skills we have learnt. The children were writing all about Superworm and using the sentence starter 'I am a…' and finishing the sentences with all of amazing things that Superworm can turn into.
As well our extra hard work in maths and phonics we have also been enjoying continuing to fly around the classroom as superheroes, practicing our cutting and sticking skills and doing lots of playing in the outside area.
Have a look at some of our super writing…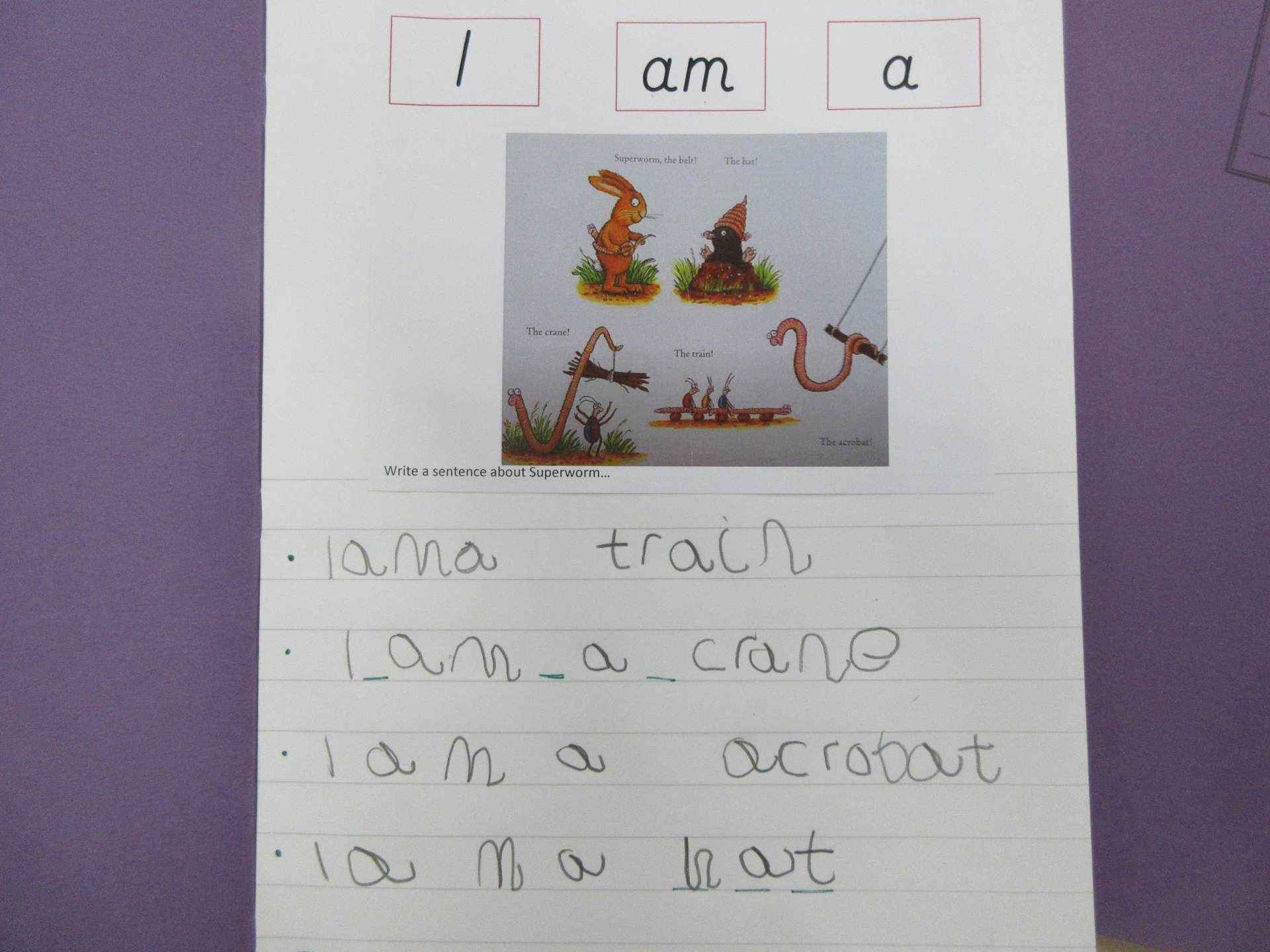 A few notices for you…
Foodbank Advent Collection
Our School Council is currently collecting items to give to the Hammersmith and Fulham Foodbank to support the local community over the Christmas period.
Children can bring any items they wish to donate into school and give them to their class teacher. We are hoping to make a final collection on the 11th December.
For a list of food items the foodbank accepts, please follow the link below.
https://hammersmithfulham.foodbank.org.uk/give-help/donate-food/
Clubs
This week was the last week of clubs. They will continue again in January and information about this will be sent out in the New Year.
Technology at home form
Thank you so much to the parents who have returned their 'technology at home' Questionnaire. If you haven't returned your form please complete it and place it in your child's reading folder next week.
Nativity
Today you will have received both an email from Mrs. Zalar and a letter home about the Nativity.
Our show is called 'A Midwife Crisis'. At St Peter's the Nativity is performed by Years 1 and 2 and Reception. In Reception, the children perform a couple of songs. The children in Year 1 and 2 perform the characters and narrate the show – so it will not be long until Reception have their turn when they are in Year 1 and 2!
As you may be aware, under current COVID restrictions we cannot sing these songs as a whole class as we would normally do to practise in school. Please find some time to practise at home as this will really help the children in learning the words and the melodies of the songs.
At the top of the page, I have saved a link at the top of the page called 'Nativity Documents' which has a copy of the lyrics, a video of the song Little Donkey and the tracks for the 'Baa Baa Bethlehem' song.
Next week
"I'm Stickman I'm Stickman that's me!"
Our learning next week is going to be based on the Julia Donaldson story Stickman! We will be making our very own stickmen, learning about measuring and ordering lengths in maths and complete some more writing all about the stickman story.
Stickman Adventure
Early on next week the children will be making their own Stickmen! So we will, naturally, need to go on a stickman adventure. The children will be going in small groups to St Peter's square to take our stickmen for an adventure. More information, and a consent form will be sent out on parent mail.
We will also, of course, be practicing our Nativity songs, as much as we can.
Have a lovely weekend,
Mrs Noonan
"You are stronger than you believe. You have greater powers than you know."
Wonder Woman
19/11/20
This week at St Peter's we have been learning about Anti-bullying week. In Reception, we have been focusing on being a good friend and talking about what we can do to be a good friend. The children have been brilliant all week, taking extra care to help others and share with them. Learning how to negotiate and work things out 'using their words' and trying to solve problems without always needing a teachers help.
On Monday, we all looked excellent in our odd socks supporting 'Odd Socks day' organised for Anti-bullying week. The children designed their own pair of odd socks and talked about how we are all different and that the fact that we are is something to celebrate.
Is it a bird?…Is it a plane?...
No its Reception being superheroes!
Our role play area this week has been transformed into a 'superhero headquarters'. The children thought about what they would like to have as a super power. Flying was very popular as well as being able to run so fast you could run on water! The children then loved playing all day as superheroes completing super hero missions for Miss Wheeler and I and making sure they were helping everyone.
We have loved joining in with the actions of this Superhero song...why not have a listen and a go at home!
Diwali
On Tuesday we learnt all about the festival of Diwali. The children learnt about how the festival is celebrated. As Diwali is the festival of lights, the children then went to the Art Room and had a go making their own diyas. They moulded, squashed and pinched the clay into the shape for the diya. We then left them to dry for a few days before painting and decorating them on Friday. Once they are dry we will be bringing our amazing creations home. The children also learnt about Rangoli patterns. We had a go making Rangoli patterns on paper, using chalk on the floor in the playground and using the interactive whiteboard to make our own designs.
Next week
Next week we will continue to look at some more of the excellent stories by Julia Donaldson. The texts we will be focusing on next week will be 'The Snail and the Whale' and 'The Smartest Giant in Town'. We are going to start using all the phonics knowledge we have been learning to write sentences about the characters.
We will be learning all about addition in maths. We have great knowledge of our numbers and there representations so we will be using these skills to learn how to find the total of two amounts using addition. If you would like to practise at home over the weekend why not try finding two dice, roll them both and add the numbers together. I wonder what the largest number you could make is? I wonder what the smallest amount you can have when adding two dice together?
Our role play area will continue to be a 'Superhero headquarters' and the superheroes in the class will be challenged by some new adventures and tasks to help out the whole class.
Reminders
Library Books – thank you so much for everyone remembering to return the library books each week! The children are loving their time going to the library to choose a new books. We will be giving the children new bookmarks this week which will have the colour of their house group on – this is just to help us in school organise the books a bit more efficiently. So please do not worry if you see a new bookmark coming home, everyone is getting a new one.
Names in uniform – can you all please just double check that names are in all pieces of uniform and are clear to read. Also if you child is starting to bring in hats, gloves, scarfs in this cold weather then having a name tag on these is also really helpful for the end of the day when we are getting the children to gather all of their items to go home.
Have a lovely weekend
Mrs Noonan
"A children's story that can only be enjoyed by children is not a good children's story in the slightest!"
C.S. Lewis
13/11/20
This week has been another great one in reception. We continued our learning this week using the stories of Julia Donaldson. We are getting very good at making up actions, using voices and joining in with our favourite stories. As the quote from C.S. Lewis above Mrs Noonan loves reading Julia Donaldson stories and never gets carried away with the actions and voices…honestly! As well as our usual PE lessons, Music lessons, Phonics, maths and dough discos this week also had our first DT day!
On Wednesday, we took part in our first DT day. DT days happen once per term and are based upon a theme. Every child in the school takes part and spends the day producing a product that fits the purpose of the day. No 'normal' lessons take place just lots of designing, making and evaluating. The theme for this DT Day was Techcard. We were making a pull along truck using wheels, axels and a baseboard.
The children loved using the junior hacksaw to cut their doweling in half, decorating their bas cards in patterns and pictures. They then had some tricky gluing to do to assemble the pull along truck before adding the wheels.
After we had made the pull along trucks we explored how much they could carry and how many objects they could hold. We did some excellent counting and estimating to see how many of our cubes and small teddy counters we could fit into the trucks. I wonder what objects you can find at home to fill the truck with?
Remembrance Day
The children all made the most beautiful poppies to wear on 11th November. They joined in beautifully with the 2-minute silence with the school and watched this beautiful video to help them understand why we were wearing poppies. https://www.bbc.co.uk/iplayer/episode/b04p4zsl/poppies
Parents evening
I wanted to say a huge thank you to all the parents for attending the virtual parents evening it was a new experience for all of us but one that went as smoothly as possible and it was such a good opportunity fir us all to catch up and discuss the amazing progress the children are making.
Next week
Next week is anti-bullying week at school which is starting off by us all wearing odd socks on Monday. In reception we will be focusing on how we can be good friends and celebrating our differences. We will be using the story of 'The Highway Rat' by Julia Donaldson to think about how our actions affect others. . Next week we will continue to work on our phonics and shape work in maths. Our role play area will be changing to a 'Superhero headquarters!' next week. The children will be inspired by the story of 'Super worm' by Julia Donaldson to think about what helpful superheroes then can be! On Tuesday we will be learning about the celebration of Diwali! We will be going to the art room to create some amazingly exciting activities…but I'll save what they are for a surprise!
Have a lovely weekend,
Mrs Noonan
"Coming together is a beginning, staying together is progress and working together is a success"
Henry Ford
06/11/20
Firstly, I hope everyone had a lovely half term break. I have been hearing from the children all week about some of the exciting things you all did. I had a very relaxing week at home, and now hopefully we are all ready for the next half term and the exciting lead up to Christmas! (I know - already!?!)
This week we have been getting back into our routines in school. We reminded ourselves of our school rules and have been working as a team.
We started our new topic on Julia Donaldson books. We have been reading a variety of her books and focusing on Room on the Broom this week. We have been joining with the story when listening to the book, finding the rhyming words and enjoying discussing the orders and characters. The highlight of our week was our first 'Buddy Reading Session!' we virtually meet our buddies and watched as they read and performed Julia Donaldson stories for us – thank you Year 6 for rehearsing and making such excellent and entertaining performances for us.
On Thursday, we enjoyed attending our first Poetry Recital assembly. We loved listening to each class perform a poem and we were particularly proud of our buddies! The next Poetry Recital will be in Spring and it will be our turn to perform.
Welcome to school!
Our role play area has been transferred into a school! The children have been taking it in turns to be the teacher and have been running maths, phonics and music lessons, taking the register, leading the children in saying the end of the day prayer and reminding them how to sit nicely on the carpet. It has been so entertaining (and funny) to watch their role play and see how much they have enjoyed 'playing teacher'!
RE Lessons
To finish off our unit of work the children were looking at the God's Creations. We firstly answered the question "Where is the most beautiful place you have ever been" We had some amazing answers including some very exotic places around the world, anywhere with lots of flowers and somewhere with lots of snow. Then we discussed how we are surrounded by God's creations and when we look out the window or look outside, we can spot the wonderful things that make our world beautiful! The children then went on a hunt outside, armed with clipboards, to make a note of all the creations they could spot.
Parents Evening
Our virtual parent's evenings will be taking place on Monday and Tuesday. Can I please remind you that these are 10-minute appointments. More than ever with us having to run these meetings virtually we need to ensure that we are running on time and keeping to the 10 minute timeframe. If there is something that you would like to discuss in more details with me then please let me know.
Your will be sent a link to join the meetings. Once you have requested to join it may take a minute for two for me to allow you into the meeting so please be patient. I am looking forward to chatting to you all and haring the great progress the children have made.
Reading Folders
I hope the letter shared earlier this week was informative and answered any questions you have about the reading folders and how to use the reading records. It has been excellent to see the effort being made at home to support the children in their reading and I want to say a huge thank you for that. The children are all making excellent progress with learning their everyday words – keep up the good work!
A message from Miss Cook:
House Athletics Competition
We would like to congratulate all of the children for their wonderful sporting skills in athletics. Mr Cotton was so pleased with the determination and sportsmanship he saw. We would like to give an almighty congratulations to the children in Keys who received the most points in the competition, well done.
We look forward to running the next house sporting competitions at the end of this term. Thank you, Miss Cook
This week has been so lovely to be back at school and it has been such a joy to see the children again. With everything else that is going on in the world this week having St. Peter's as a haven of learning, creativity and community makes us all feel very fortunate. As an Early Years team we want to say a huge thank you to parents for wearing masks on drop off/collection and using the social distancing lines to keep us all safe.
Have a lovely weekend, and keep safe
Mrs Noonan
"For me, it's just about being myself, leading from the heart and playing with my heart on my sleeve – which is what I try and do every game."
Serena Guthrie MBE– England Roses' Captain
23/10/20
Black History Month
This week the entire school has been celebrating Black History Month. In Reception we have been learning about the stories of Anansi the Spider from Ghana. The children have learnt about how Anansi got his skinny waist and legs from being too greedy and enjoyed the story when Anansi showed the bigger animals that even the smallest of creatures can be strong and clever! Our favourite story was about Anansi's six sons. The children also used the beautiful art from the storybook/ to inspire some beautiful pieces of work. Have a look at some of our beautiful creations…
One of the highlighted of this week has been sharing some amazing books and stories with the children. One of my favourite this week is the excellent 'Coming to England' by Baroness Floella Benjamin which tell her story of her journey from Trinidad to London in 1960.
To listen to a version of the story click here: Coming to England
Below is a link to a virtual library with some more amazing stories and books celebrating diversity:
Along came a different…
To help Reception engage in the important messages of Black history Month and 'Show racism the red card' we have been reading a story called 'Along came a different' by Tom McLaughlin. In this story there are lots of shape characters the yellow squares, the blue triangles and the red circles. At the beginning of the story we were shocked that the blue triangles wouldn't share with the yellow squares because they only like blue things and the red circles made a space that was for 'reds only'. But…along came a "different different!" This was a shape made up of lots of other shapes and was the most colourful shape there has ever been. Most importantly this "different different" shape likes blue, red, yellow and all of the colours and will share and be kind to everyone. The story finishes with the very important message…"being different is the best thing ever!" In our Art lessons this week we painted some of the colour shapes and then we learnt how to make other colours by mixing red, yellow and blue together. We then created our own 'different different' shape by working together in teams.
If you would like to listen to this story at home together then you can watch this recent Cbeebies bedtime story: Along came a Different
We also had a lot of fun this week exploring our senses. A huge thank you to Chef Andrew for giving us a set of fresh herbs and spices to explore and discuss. The children loved smelling the herbs and talking about what they reminded them of, which were their favourites and if they liked the smells or not.
Our Year 6 Buddies
On Friday we had a virtual meeting with our Year 6 Buddies where we all introduced ourselves and shared our plans for our weekly Buddy Reading sessions next half term. The Reception children all loved waving and saying hello to their buddies and can't wait to hear the stories that Year 6 prepare for them next half term.
House Competitions
What a wonderful week for sport. Thank you to all year groups for taking part in the house athletics competitions this week, it has been lovely to get the children involved in competitive sport, and they really enjoy it. It has been a very close call all week but Mr Cotton will tally up the results and announce the winning house after half term. Best wishes, Miss Cook
Reading Folders
On Friday the children will be bringing home their reading folders for the first time. In this folder there is your child's reading record (yellow small book – please read the information inside the front cover) and a copy of letters about Everyday Words and Mathletics and Readiwriter.
Please can the children's reading folders be brought into school every day from after the half term. We will be beginning the children on the reading scheme after the holidays and will need access to their folders every day. Once your child has a reading books these will be changed on Monday and Thursdays.
In the meantime the children have their first set of everyday words to begin to learn – happy reading!
Happy Half Term
Finally, I wanted to say thank you to all the children and parents for such a brilliant first half term! I can't quite believe it is the half term holidays already and we are already 1/6 of the way through Reception! The children have been exceptional! For many of them this is the first time they have been in an education setting full time, and it has been a long time for many of them since they have been due to lock down. They have adapted to the new rules and routines beautifully, they are becoming more independent and resilient, they have learnt to make new friends, share with others and be kind and caring to all, they have got to know all of the Early Years team and become confident when talking and sharing their ideas with adults and peers, they have taken part in phonics, maths, PE, art and RE lessons to name but a few of the areas they have developed their learning in…not bad for your first 6 weeks at school!
Have a lovely, restful week and I will see you all again on November 2nd
Mrs Noonan
"I am perfectly designed…"
Karamo Brown
16/10/20
Another busy week in Reception has flown by! And a busy one it has been too!
On Friday this week we all looked excellent adding something red to our uniforms to support 'Show Racism the Red card'. In Reception, we have been thinking about what makes us all unique and how we can celebrate our differences and our similarities. We have read some lovely stories such as 'All are welcome' by Alexandra Penfold and Suzanne Kaufman, 'my world, your world' by Melanie Walsh and 'I am perfectly designed' by Karamo Brown which have helped us to understand that even if someone looks, speaks or sounds different than we do we all have so much in common and are all unique and perfect.
Earlier this week our maths work was focused on capacity. We had a lot of fun in the water trays filling pouring and measuring to show full, half full, empty, nearly empty and nearly full!
Thank you for the donations of leaves and autumn items. The children have loved exploring them and then created their own beautiful autumn leaves which are now decorating our new autumn reading area – because who doesn't love cosying up on an autumn day with a good book!
Inspiration sparks everywhere…
While sharing our WOW notes this week we heard all about an experiment that Louanne had done at home using pens and kitchen roll that created magical pictures!
One of our favourite things to do in Reception sis be inspired by the children so…Friday afternoon we dropped everything and decided it was time to get experimenting! We watched an instruction video to see how to make the magical pictures and then watched our experiments and we were amazed!
CONGRATULATIONS!
Receptions are winners!
Miss Cook announced in Fridays assembly that Reception were the class to have the most children walking, cycling or scooting to school each day of 'Walk to School Week'. We are all very pleased with certificate. Well done everyone and keep it up!
A few reminders:
Water Bottles
Please make sure your child has their own water bottle with them each day in school.
Names on Clothes
It is always after a few weeks and many washes that names in jumpers become trickier to read or are washed off. Please check that names in all jumpers (including PE) are clearly named. Thank you.
WOW Notes
Thank you so much for the WOW notes we have received so far this year. I sent home a few extra copies this week but if you ever need any more copies let us know. It is such a joy to share the children success and see how proud they are to share with their friends their achievements. Keep them coming
Black History week
Next week we are celebrating Black History Month in school. We will listening to stories from different cultures and in Reception; we will be focusing on the story of Anansi and learning about some inspirational people.
If you have any books, resources or ideas to help support or learning during our week then please get in contact – I would love to hear your suggestions.
As I'm sure you have noticed the children are all getting quite tired at the end of a very long and exciting first half term at school, some big sleeps and lots of rest this weekend is what we all need (Mrs Noonan included!).
Have a lovely weekend,
Mrs Noonan
"Doctor Doctor I feel like a bell….'
"Well take 2 of these and if they don't work give me a ring!"
09/10/20
A broken arm, sore tummy, banged head, broken fingers, blocked ears and 4 sprained ankles and that's only the aliments that Mrs Noonan has had this week! Luckily, the doctors in our role play area have been on hand with their bandages and medicines to make everything better again and make sure everyone is fit and healthy for the weekend.
The Early Years Team and I have been so impressed this week watching all of the children engage so brilliantly in their learning. They are sharing with each other, trying their best to remember their manners and very importantly helping to tidy up after we have had so much fun learning! Maths this week has been looking at ordering numbers to 10. The children have been hugely impressive in their phonics lessons where we have been focusing on the letters s, a, t, i, m, o and p. The children have been writing words such as pat, tap, sat, mat, in and is. They are beginning to form their letters correctly and are using great segmenting and blending skills. Don't forget to look at the Sounds Write website for more information about the phonics scheme we are using and if you get a chance to download the app then the children can show off their skills to you at home.
In our RE lesson this week we learnt about the Creation story. The children loved thinking about all of the amazing things God's created for us. After listening to the story the children then created their own worlds using the resources in our classroom.
The children have adapted so well to eating their lunches in the art room and are thoroughly enjoying the new menu! We also used the art room this week to create some beautiful Autumn art work – colourful leaves and beautiful trees. The leaves have helped to decorate our autumn reading corner and the Trees will be displayed in the art room for all to admire!
If you are out on an Autumn walk this weekend and find any beautiful leaves, conkers or autumn items then please collect them and bring them into school for us to use in lots of creative ways.
"I like big trucks and I cannot lie…"
A huge thank you for all the kind donations of trucks, diggers, cranes that we have been given this week. They have been a huge hit with the children and they have had so much fun with them!
Upcoming events and dates for your diary:
Show Racism the Red card
On Friday 16th October we are asking all of the children to add something red to their uniform to mark the national event 'Show Racism the Red Card'. In Reception we will be focusing on how God made us all unique and celebrating what makes us special in our RE lessons.
Black History Week
The week beginning 15th October as a school we will be celebrating Black History Month. If you have any ideas or suggestions to help us celebrate or would like to find a virtual way to be involved then please let me know.
Sporting News – A message from Miss Cook
During the final week of school, before half term (week commencing 19th October 2020), within our PE lessons, we will be running sporting House Competitions. The competitions will be house athletics competitions which will take place within each year group.
Each class will be divided into their house groups where they will compete against their opposing house groups to win the House Competition Trophy. Each year group will have a winning house but the trophy will be given to the house with the most wins across the school; the trophy will be presented in one of our virtual assemblies and each member of the winning house will receive a certificate.
I wonder who will be the winning house this half term. Happy competition and good luck!
Have a lovely weekend,
Mrs Noonan
"Hello, hello, hello…"
2/10/20
"999. What is your emergency?"
This week the children have been discussing all of the different people who help us and the things they do. Luckily our very brave firefighters were on hand and answered the call on Thursday when there were a lot of fires to put out – they worked together as a team to use our water pump to make sure that every bit of the fire had gone. The police have been on patrol around our classroom looking for anyone who needs any help, finding missing items and keeping any trouble makers at bay!
Our learning
Our learning in phonics this week we have been using the letters s, a, m, i and t to write and read words. In Maths we have met 8 members of Ten Town. They have been helping us to count, find more or less of an amount and practise writing our numbers. We have also been making some patterns using shapes and colours. Why not see what patterns you can find at home?
Library
On Thursday we had another lovely trip to the library, we were all very excited to have a browse and choose a library books to borrow. The children have all been given a bookmark with their name on – please look after this, as it helps us know whose book is whose. If you would like to take out a new book from the library please return, the book on Thursday (with the bookmark inside) and then the children will be able to return their current book before choosing a new one. We will not be able to give children a book until they have returned their current one.
Next Week
(One thing parents who have had a child in Reception class with me before will know that I love a good competition – particularly if I can get Reception to be the best class in school! Our first whole school competition is starting next week so fingers crossed we show St Peter's how it is done and Reception will be the winners!)
Walk to School Week – A Message from Miss Cook
Get your happy feet on, it's time to celebrate.
Living Streets, have created the greatest national Walk to School celebration, where pupils and grown-ups around the UK unite for one week of walking to school.

The five-day walking challenge aimed at primary schools is a fun and engaging week-long activity, raising awareness and celebrating walking for all. Not only will it set them up for a positive day in the classroom, it will also help create healthy habits for life.
Walk to School Week is now scheduled to take place on w/c 5 October 2020, during International Walk to School Month.
The class with the most amount of children and staff walking to school will receive a lovely, sparkly certificate.
Harvest festival
On Monday, we will be joining the Harvest Service virtually led by Charles. Any donations of tinned or dried foods, toothpaste, toothbrushes, shower gels etc., to be brought in on Monday 5th October, will be greatly appreciated, and will all go towards supporting the efforts of the Upper Room and Fulham Food Bank.
Have a lovely weekend
Mrs Noonan
"Yo Ho Yo Ho! A pirate's life for me…"
25/09/20
We have had a lovely week in Reception. It's been a pirates life for us all week. Each day we have been enjoying pirate stories, we have been making treasure maps, creating pirate artwork and learning some pirate actions and dances. On Thursday, we all dressed up as pirates and had a fantastic day full of pirate adventures! Have a look at the gallery to see our fantastic adventure this week…
This week we have also had our first PE lessons and Music lessons. The children were fantastic and all of their teachers said how well they behaved and joined in with all of the lessons. Thank you to all of the parents for remembering to put the children in their PE kits on Mondays and Fridays.
RE lessons
Our first RE lesson this week was starting on our first topic which is answering the question 'Who made this wonderful world?' In our first lesson we were thinking about what is precious to us. We first thought about what precious means and then created some lovely work filling our hearts with pictures of precious things.
Phonics and Reading Meeting
On Monday you will receive a ParentMail with all the information about the Phonics and Reading meeting. This will include PDF's of documents with information, a link to the YouTube video presentation and an invitation to the 'Google Meet' link for the Q&A session on Tuesday 29th at 6pm.
Buddy System
We feel it is important to both our Reception and Year 6 children that we try and continue our brilliant Buddy system in any way we can. At the moment, due to the children having to stay within their 'bubbles', we cannot physically meet but Mrs Noonan and Mr Thomas (Year 6 Teacher) have paired up the children with their Buddies and the children have made each other a card. The cards include photos of the children so they can start to get to know their buddies. We are thinking of what other creative ways we can connect the children to their buddies so watch this space…
Ambassadors
This week we announced the children who have been chosen to represent Reception in the various ambassador roles in the school.
School Council – Francesco and Poppy
RE Ambassadors – Jemima and Imogen
Art Ambassadors – Louis and Clara
Eco Council – Orlando and Reyan
Kindness Ambassadors – Isaiah and Allegra
Throughout the year the children will be attending meetings (virtually) or given special tasks to do to help them complete their very important jobs!
Next week
Our phonics will be starting next week with us looking at the letter from Sounds Write Unit 1 – s a t i and we will be continuing to visit 'Ten Town' each day to get to know the stories and characters for each number. Our theme for the week is going to be 'People who help us'. Our role play areas will be transforming into builders yards and police and firefighters stations.
Have a lovely weekend
Mrs Noonan
"I knew you'd have a good day! School isn't so bad after all, is it?"
The Colour Monster by Anna LLenas
18/09/20
The Reception class have had an absolutely brilliant first week in school. It was amazing to see them all happily come into school each morning and enjoying their first full week. If they are feeling half as tired as Mrs Noonan and the other teachers then they will be having some big sleeps this weekend. Over the week we have been reading the story of 'The Colour Monster' by Anna Llenas. This is a beautiful book about emotions and feelings. We also read 'The Colour Monster goes to School' and lots of us could relate to how the Colour Monster was feeling on his first day at school but by the end he agreed that "school isn't so bad after all!" As part of our work on the colour monster the children created their own colour monsters and used different colours to show how they were feeling. These are now in our classroom on our 'The Colour Monster' display.
Our first lesson this week on Monday was RE and this was all about St Peter. We learnt that he was a special friend of Jesus and that he was a fisherman. We listened to a story about how Jesus helped St Peter fill his net with fish. In our classroom we had our own net to fill with beautifully decorated fish.
We have had a few visitors this week to help us get to know all of the teachers who are going to be looking after us. Mr Alex will be teaching us on Monday's in our Music lessons (our first lesson is next week) but this week he came and introduced himself and learnt about the instruments that the children already know how to play. Mr Cotton has been popping into Reception to come and play all week! On Friday we went to the Scott Hall playground to explore where we will be having our PE lessons which start on Monday.
And inbetween all of those exciting things we have been getting to know our friends, finding lots of fun activities to do, enjoying our playtime in the big playground each day and eating our tasty, yummy lunches.
Phew!
Have a look at the gallery below to see some of the fun we've had this week.
Notices:
Next week will be another busy one…
Twitter – If you don't already then please follow us on Twitter @St_Peters_CE
Pirates – our theme for next weeks learning is Pirates and on Thursday we will have our Talk Like a Pirate day where we will all dress up as pirates!
PE lessons start on Monday and Friday so please wear PE kit on these days
Library books – the children all took home a library book this week, pelase return this on Thursday so the children can change their book for a new one.
Meeting – Parent's don't forget our Q&A on Phonics and Reading Meeting will be on Tuesday 29th September at 6pm. A video of the presentation will be shared before meeting as will the Google Meet link to join the meeting.
I hope all the children have a lovely, restful weekend and I can't wait to see them again next week!
Mrs Noonan
"Somewhere inside all of us is the potential to change the world"
Roald Dahl
11/09/20
What a great week! I am delighted to say that all of the children have settled in to Reception. It's been a lovely week of getting to know the children. They are all making friends, both new and old, enjoying exploring all of the activities in our classroom and outside areas. We have been learning about our classroom, we have been getting to know each other and learning lots of new things. We have been practising our cutting and sticking and making lots of creative things to take home and we have been sharing lots of stories that are all about starting school and how we look after our toys and each other.
Monday is going to be a very exciting day when we get to have all of the children together for their first full day!
Meet our new Reception children
Roald Dahl Day
On Friday we enjoyed joining in with the whole schools celebrations of Roald Dalh Day. In Reception we read the story of Roald Dahl's 'The Enormous Crocodile' with his "nasty plans and clever tricks!" The children listened beautifully to the story, and were very happy when the crocodile didn't manage to eat and children and cheered when he got 'sizzled like a sausage' at the end. The children enjoyed exploring in the water tray with our crocodile toys and making their own crocodiles in the creative area.
A few notices:
Don't forget that clubs start next week. if you child is attending Mr Cotton's clubs on Monday and Thursday please bring in their PE kits and we will change them ready for the club at the end of the day.
All children will need a snack if they are attending a club, please leave this in their bags or book bags.
Virtual Welcome Evening
On Wednesday night from 5.20 – 5.40 we will be having a 'Welcome Evening' meeting. Prior to this meeting I will be sending some information to you all such as a class timetable and then during the meeting I will discuss some more of the arrangements for Reception and will be happy to answer any questions you may have. The link to the meeting will be emailed to you prior to the meeting.
Have a lovely weekend, you might have some very tired children who will need a big rest this weekend!
Mrs Noonan