Welcome to Reception

Our teacher is Mrs Noonan
Our Early Years Educators are Miss Wheeler and Mrs Pond - Jones
Please find below a link to the online learning resources
10th July 2020
"Be not afraid of growing slowly, be afraid only of staying still"
Chinese Proverb
This week we were so happy to see some more of our friends back into school this week. We have been very busy again this week. We also had a lot of fun with some very large cardboard boxes again making houses, dens, boats and robot costumes. But what was more exciting was what came inside the boxes. We have a brand new water tray – it is so much fun and I know the children will love playing in it again next week. A huge thank you to Mr Rob for building it for us.
Just a reminder for parents about the arrangements for next week…
Group 1 will attend school on Monday 13th July and Tuesday 14th July. The children will be set home learning for the remainder of the week. This means that Group 1's final day in school this year will be on Tuesday 14th July.
On Wednesday, the Reception learning environment will undergo a deep clean.
Group 2 will attend school on Thursday 16th July and Friday 17th July. The children will be set home learning for the beginning of the week. This means that Group 2's final day in school this year will be on Friday 17th July.
Other notices:
Library Books – please return any school library books you have at home. If you cannot remember the title of the book you have on loan then please ask next time you are in school or email and I can let you now the title of the book.
Reading books – if you have any school reading books at home then please return them to school.
Profile books – on the children's last day in school they will bring their Profile Books home. Please be aware that due to the government restrictions the profiles have not been updated since March. They are still full of lovely memories and activities from the first half of the year but do not include any observations since the children have returned to school.
Being aware of the fact that profiles have not been able to be updated recently lead to my decision of making the videos of the children to share what they have been up to in school. I know that the children are missing each other a lot at the moment so as well as the videos sharing what the children have been up to in school they are also a lovely opportunity for the children to see each other. I will be putting together another video for our final week so keep an eye out for this next week.
Have a lovely weekend,
Mrs Noonan
2nd July 2020
"Creativity is intelligence having fun"
Albert Einstein
Another busy, busy, busy week here at school. This week Group 1 were in school. Having seen the video of what Group 2 got up to, we started off the week with rockets! We all have a go using the blaster rocket and made the rocket fly to some incredible heights. We then used the smaller rockets and thoroughly enjoyed shooting them around the playground.
The school has been getting lots of resources delivered for the beginning of next year which means one thing…lots of cardboard boxes! We had so much fun making all kinds of building, robots and inventions with the boxes. We also wanted to make a little house – but who would live in it? That's when we all got our own 'mini me'! We printed off a picture of the children, cut them out and laminated them which made our 'mini me'! have a look at the gallery to see what we got up to.
Can you guess who is in the box?
I hope all of the children who have been working at home have had a lovely week and we cannot wait to see you back at school. We have some special plans for the children's last days at school in a weeks' time.
I hope you all have a lovely weekend and are all well,
Mrs Noonan
26th June 2020
"Feeling HOT HOT HOT!"
The Merrymen
Phew! What a scorcher this week has been. It has been so lovely have group 2 back and we have had a lot of fun! Don't worry group 1 – we will be doing some of these fun things next week too!
This week the children really led our learning, they had had so much fun at home with learning about the Zoo and our week started off by reading some excellent stories about animals including the ones mentioned last week.
Then inspiration hit! We got a video sent to us of one of the children setting off a rocket! Watch below…
It was so cool and we were so intrigued about how it worked – the zoo animals were put away and the rockets came out! When you watch my video this week (link to be sent out soon) you will see some of the rockets being launched. They are safely stored in our classroom for group 1 to have a go next week.
Then the sunshine came…and so we thought of as many ways to use cold water in our play as possible. That included painting the whole school with ice cold water (don't worry Miss Frazer – we didn't really paint the school golden rainbows with sparkles!), we set up water runs, setting up the water pumps and finally when it all got too much we got the hose out and may have completely soaked ourselves (and the children in Year 1!). If you want to see how much fun this was, have a look in my video.
The children who have been learning at home have had an excellent week – I couldn't finish this blog without showing you the Animal Zoo Safari that Bowen created this week, the pictures are in the gallery below.
Have a lovely weekend everyone – I hope you all enjoy the sunshine.
Finally, if you are missing Glastonbury this weekend then check Mrs Noonan's video this week where you will be able to see some excellent performances by the children on our stage!
Mrs Noonan
19th June 2020
"The love of all living creatures is the most noble attribute of man"
Charles Darwin
We have had a lovely week in school. I think we have had almost every possible type of weather from the sunniest of days to the loudest thunderstorm but throughout it all the children have had an excellent week. Our work in school this week has been based on 'The Zoo' and the children have loved the theme. We have been using the toys we have to create huge animal worlds including the Arctic, deserts and jungles. We have been reading some lovely books including 'This Zoo is not for You' by Ross Collins which helped us to talk about how we can be good friends to each other. We have also been having some days with messy play including our colourful foam soap! I think some washing machines have had to be working hard this week as some of the children's white shirts were not so white by the end of the day!
I hope the children who have been learning from home have had a good week! I've heard that you have been on some virtual zoo tours and enjoying making your own zoos at home. I look forward to seeing you all again! For the parents of Group 2 I will be in contact as soon as possible to update you in regards to the situation for next week. Fingers crossed we will all be back at school!
Have a lovely weekend everyone,
Mrs Noonan
12th June 2020
"You have to find little pockets of joy in your life to take care of yourself"
Jonathan Van Ness
My second little 'pocket of joy' had a brilliant week in school this week! It was so lovely to see the second group of Reception in school this week and just like the children last week they were amazing. They settled into the new rules and routines with ease and we had such a lovely week! I hope the children who have been at home this week have had a lovely time and enjoyed the home learning tasks and are excited to come back to school on Monday.
Animals have been a strong theme in the children play both last week and this week and we embraced that in our learning. We have been looking at sea creatures this week, learning about lots of different types of fish, learning new words such as 'shoal' and drawing some excellent under water worlds. As our previous group did we created a video this week to say hello to our friends – we hope you enjoy watching it!
I have uploaded the next set of Home Learning to the Google Drive, used the children's interests, and based this on 'The Zoo'. Under normal circumstances, we would have been going on our trip to London Zoo with our Buddies, but at the moment we will have to settle for some virtual Zoo tours. It was announced this week London Zoo is reopening under strict social distancing rules so on your home learning week this might be worth considering (of course this is not an expectation – just a suggestion!).
Have a lovely weekend everyone!
Mrs Noonan
9th June 2020
"Nature is our spiritual teacher"
Oprah
After settling back into the school routine our second group of Reception children today were looking at lots of the animal toys we have. This inspired two of our curious young minds to make their own 'Arctic Nature Reserve'. They have created a video to explain their world to you and set you all the challenge to make your own animal videos at home and send them to us…
5th June 2020
"You have brains in your head. You have feet in your shoes. You can steer yourself any direction you choose"
Dr Seuss
This week I have been so proud of all the children who came into school. They all came in with a smile on their faces and listened to all of the instructions and information beautifully. We had a good chat on the first morning, heard some news from everyone and then shared the new rules we need in our class to keep us safe. Our daily routine has been having a lot of time playing inside and outside, going for a run in the big playground, having a tasty lunch in our classrooms (we have also chosen our food from the menus for our next week in school - thank you Chef Andrew) and then more time playing in the afternoon. Before lunchtime and at the end of the day we also helped wash all of the toys we have been playing with so that we can all keep healthy.

We have been missing our friends so we thought we would make a video for you all to say hello!
I can't wait to see the children who are in school next week!
Have a lovely weekend,
Mrs Noonan
1st June 2020
Retrouvailles
French - The happiness of meeting again after a long time
Welcome back!
I hope you all had a lovely half term break and you have been enjoying the beautiful weather and getting up to lots of interesting activities and fun family time! My half term was spent mostly on my balcony – it is a very good suntrap and a perfect spot to read a book. I have also loved watching some of the flowers from my plants beginning to blossom and add some lovely colours and brightness to the world.
I have also been busy getting the school and resources ready for seeing you all soon. Tomorrow morning I will see the first group of children and then next week then the second group of children. For those of you arriving tomorrow please use the book and video provided to help the children be familiar with how the school will be arranged. For those of you spending this week home learning then I have uploaded the work to the google drive and a video to introduce it all to you. I have written a guide for the week for the parents to read and there are also resources for Friday when the school is closed for deep cleaning. I have mentioned on the parent guide but for those of you at home this week please keep sending in photos of what you are up to then we can share them in school. If you are choosing not to send your child into school at this time then please use the resources mentioned above to support their home learning but please be aware that new learning will be uploaded every two weeks rather than a weekly update. We completely support all parental choices at this time and endeavour to continue to support our children and families as much as we can.
See some of you tomorrow and some of you very soon! I wonder how much you will have all grown?!
Mrs Noonan
22nd May 2020
"Be kind whenever possible. It is always possible"
The 14th Dalai Lama
Today is the last day of term, which means there is only one-half term left before the end of the year! When I was looking through all the lovely photos this week I noticed how grown up you are all looking! I think you have all grown a few inches since I last saw you.
I hope all of the information sent home this week about the possible school reopening was useful – if you have any more questions, worries or concerns then please let me know. To help support the children with the transition back to school as well as the video i have created an information book (or social story). It would be great if you can read this with your children and talk about what school will be like, if we are allowed back, in June.
I have uploaded a 'Half Term' document on the google drive – this is optional but if you wish to continue to complete some learning activities next week then there are some suggestions and if you would like to there is a poem to learn – I would love to see some videos of your performance of the poem if you can!
Thank you to those who have produced wonderful pieces of artwork for the care homes in the borough. We have received some lovely comments and feedback so thank you for all your hard work and efforts - they have not gone unnoticed and have made a real difference to many lives. Here are a few comments we received from St Vincent's House Care Home:
'The staff were very surprised and delighted with the gifts and very moved by all the wonderful pieces of artwork, especially as they were received on international nurses day.'
'...please pass on my heartfelt thanks to the pupils. It made us all very emotional to know that we have your love and support during this time.'
Please keep sending in your care art work if you haven't yet done so.
I hope you all have a lovely half term holiday!
Keep safe, keep kind and keep smiling :)
Mrs Noonan
21st May 2020
"One kind word can change someone's day"
Unknown
I hope you have all had an excellent start to the week. How many acts of kindness have you been able to do so far? Yesterday I was sent the loveliest video message which put a huge smile on my face and was a lovely act of kindness from one of our class.
Yesterday you will have received lots of information about the schools possible wider opening on 1st June. I hope you found this useful and that it answered many of your questions about the set up and organisation of this. If you have any other worries, concerns, thought or questions about anything to do with the arrangements please email me and let me know.
Below is a link to an information video that myself and Mrs Zalar recorded yesterday to help explain to the children what the school will look like when we return. I hope it is useful and is a good tool for you to use as a family to support the transition.
Mrs Noonan and Mrs Zalar's school tour
Have a lovely rest of the day – I will be sharing the photos and news I have had from everyone this week tomorrow in a new blog post so please keep emailing your photos and your work.
Mrs Noonan
18th May 2020
"No act of kindness, no matter how small, is wasted"
Aesop
Hello Reception! I hope your week has got off to a good start and that you are all ready for another week of learning, creativity and fun.
This week is also Mental Health Awareness Week.
The theme that has been picked for this week is Kindness. Every member of our class is kind and shows kindness in many different ways, but just in case you need some ideas of how you can show kindness this week then below are some suggested activities that you can do. I bet when you have a look there are some you will have already done today, you might be able to do lots of them in one day or even have a go at completing all of the activities by the end of the week.
Today I have managed to do 2, 9 and 15 and I am sure I will manage to do a few more before the end of the day. I wonder which ones you can do? Or how many you have already done without even realising!
Keep kind,
Mrs Noonan
15th May 2020
"

We

love

your

colours

Elmer

"
The Elephants
Another week finished. I have heard from so many of you about how much you have loved the Elmer story. I hope the story has reminded you all about how special and unique you all are and has reminded you about what all the pieces of patchwork are that make you amazing!
Your art work this week has been outstanding! Have a look at some of our colourful creations here...
Next Saturday is Elmer Day. If you want to take part in this day then use the link below where you can register and have access to the resources on the day
"Bicycle, Bicycle – I want to ride my…" Queen
A lot of you have been taking advantage of the quiet roads and daily exercise and have been learning how to ride a bike! This week one of our friends has been using his birthday present to master the skill of riding a bike! Well done!
This week Miss Cook has been organising collecting Art work to send to care homes to brighten their day. In the gallery below is the excellent work the children from St Peter's have created. I know they will be loved and help brighten our communities day!
No Place I'd Rather Be…
Finally I hope you all enjoy the video from the staff. It is a such a true statement from us all…there is no place we would rather be than St Peter's and hopefully we can all be safely back together again soon.
12th May 2020
"

E

l

m

e

r

was different,

E

l

m

e

r

was patchwork"
David McKee
Elmer is a brilliant story. It has always been one of my favourite. The idea of celebrating how different Elmer is and seeing how much his friends love him because of how different he is warms my heart. I hope you are enjoying your learning this week using this book.
I want to brighten everyone's week this week with this story and I think an excellent way to do that would be to share some Elmer art work with our school. So parents please send me photos of all of the excellent Elmer art work you are making this week and we will put it all together to share with everyone. I have already started my Elmer painting and can't wait to share it with you all so get your paint brushes, colouring pencils, felt tips and let's get creative!
I also found this excellent 'Elmer' song called 'Be a Rainbow' from the Elmer Stage show that I thought you might all enjoy.
Worship Assembly with Charles
Charles has recorded his weekly Worship assembly please use the link below to watch
I can't wait to see your Art work Reception!
I miss you all dearly and can't wait to see you soon!
Mrs Noonan
11th May 2020
"In the middle of difficulty lies opportunity"
Albert Einstein
Happy Monday everyone!
I hope you are ready to start the week with big smiles on your faces and a PMA (positive mental attitude) that's says you can do anything! I'm sure you all had a lovely, long weekend and like me were able to make the most of the lovely weather we had on our bank holiday. This morning I have received more photos of some of our friends and the excellent work that they did last week so what a nice way to start our week by having a look at what they have been up to! They include some very exciting activities, excellent writing work and some more of the photos the children have been taking.
Keep working hard Reception!
Mrs Noonan
7th May 2020
"But I know we'll meet again some sunny day…"
Vera Lynn
Tomorrow is VE day and a bank holiday! I hope you all get a chance to celebrate and spend some time (safely) outside on your daily exercise or gardens.
The work for next week and my video have been uploaded so head to the link above for the work for next week and parents guidance. From all of the emails and messages I have had this week it looks like you have all been excellent! Take a look at the gallery below to see what we have been up to. We have had children completing lots of measuring, building some very tall towers, completing 100 piece jigsaws, writing, reading everyday words, reading books, drawing pictures and making obstacle course! Also one family has a new member – the adorable puppy 'Fig!'
Talking of obstacle courses check out Captain America completing his! What a hero!
Miss Cook is organising a lovely activity for us all to take part in please read below
Care Home Artwork
Let's get creative and help brighten up someone's day. As I am sure you're aware, we have four care homes in the borough.
With the help of one of our parents, we have decided to get you lovely, creative children to create some bright, vibrant artwork to help decorate the care homes.
We hope that together and through our artwork we can put some smiles on the care workers and the people in the care homes faces.
What you need to do:
Create eye catching artwork on a piece of A4 paper, take a photo of it and send it to communications, FAO Miss Cook.
Try to make your artwork as vibrant as possible, here are some ideas. Lots of rainbows, sunshines, flowers, animals, happy quotes…etc. and try to include the school name/ logo somewhere on design
Please scan/take a photo of your art work and email it with the subject as FAO: Miss Cook by Friday 15th May 2020.
I am excited to see you creations,
Thank you,
Miss Cook
I hope you all enjoy the long weekend and lovely weather we are going to have. If you would like to take part in a celebration on Friday hosted by the Royal Alert Hall there is more information below
I am missing you all Reception!
Mrs Noonan
6th May 2020
"Children see magic because they look for it"
Christopher Moore
How are your photographs looking Reception? I have seen some of the photos our class have been taking at home and they are excellent. I always love to see the photos that the children take, it shows how they see the world and gives us a glimpse into the eye of each child.
When I have done this task in school in previous years, I have used this gallery as a challenge for the children. These are some photos using the zoom on the camera and are a close up picture of objects from our classroom. Can you guess what they are?
It has been a while since I did some of the 'Draw with Rob' pictures but I found some time this week to do this again, which has been lovely. Here are the pictures I have done this week. Don't forget to join in with these videos every Tuesday and Thursday if you would like and why not ask an adult to share your picture on Twitter with #drawwithrob and you might get a retweet from Rob himself as some of our friends in Year One have! And while you're tweeting don't forget to mention @St_Peters_CE so we can share your amazing work!
Keep safe,
Mrs Noonan :)
4th May 2020
"May the fourth be with you"
Happy Monday everyone – today is one of my favourite dates of the year!
I hope you all had a lovely weekend and are ready for another week. Don't forget to look at the resources for Week 5 in the Home Learning link above and seen the video I recorded introducing you to what we are going to be learning this week.
I know that many of you all enjoyed watching the 'Reception Toilet Roll Challenge'! I've heard from lots of you about how much you enjoyed watching it and seeing all of your friends – some people have even watched it 10 times!
Charles has recorded a worship assembly for our school which is on the link below. Please find some time this week to watch this.
Have a lovely start to the week and remember these wise words from a jedi master
"Truly wonderful the mind of a child is" Yoda
Mrs Noonan
1st May 2020
"You gotta roll with it"
Oasis
Happy Friday!
This week seems to have gone by very quickly, I can't believe I am writing another Friday blog already. We all seem to have been very busy this week – mainly with our secret mission. I am so happy that EVERY child was able to take part in the challenge. The highlight of my week has been being able to see all of you in your videos. They have made me smile and I have enjoyed getting the video ready for everyone to see. I really hope you all enjoy it – I know the parents have enjoyed making their own version this week (don't worry parents this one won't be being shared!) I enjoyed doing my parts of the video and I think Mr Noonan enjoyed throwing the toilet roll at my head – I'm sure the first video was fine but apparently it took 10 attempts to "get it right"?!?
Miss Frazer is going to be posting a video for her Friday assembly today so make sure you watch to see who I nominated this week for a Headteachers award. A link will also be shared with a video message from me and all of the work will be uploaded onto the Home Learning link above ready for next week.
St Peter's is on Twitter! I hope you all got an email from Mrs Zalar earlier today who has set up a twitter account for St Peter's. This will be another excellent way to keep connected, share ideas and news from the school. There will also be some information about permissions needed for photos for the account so please complete this as well.
Now that our Secret Mission (Toilet Roll Challenge) is complete we need to think about what our next mission will be? Any ideas let me know! Lets keep together, connected and smiling J
Have a lovely weekend everyone,
Mrs Noonan
30th April 2020
Hello – just a quick message to point you towards this 'Pyjamararma' day run by Book Trust is tomorrow. It is a celebration of books, stories and illustrations for you to take part in online – but also in your pyjama's as they celebrate bedtime stories.
Also Sound Write – the scheme we used for Phonics has released a parent guide and some printable resources – links below
29th April 2020
"Remember all of us sleep under the same sky"
Tom Hardy on CBeebies Bed Time Stories
I hope you have all had a lovely start to the week. I have loved receiving all of your 'secret missions' and it has been a lot of fun to work on getting our little project ready to share with everyone as well as making my own input to the project. I can't wait for you all the see the finished mission on Friday.
I would point you all to the lovely story 'Under the same sky' by Robert Vesico on CBeebies read by Tom Hardy as part of their Bedtime Stories. It is a lovely story that shows two friends who are missing each other and how they are thinking of each other.
At the top of this blog I have added a link to Coram Education. It is a great resource to support Online Safety for families and has a range of information and resources for you to use.
There have been a lot of lovely photos of the work you have been doing this week sent to me and I hope you have all enjoyed the first few days of work this week. I hope you are all working really hard and that you keep going. Miss Frazer is doing a celebration assembly on Friday and she would like nominations for 'Citizenship Awards' for children who are showing our value of this half term 'Perseverance'. So parents, please let me or Miss Frazer know if you have a nomination by email.
Have a lovely rest of the week,
Mrs Noonan
27th April 2020
"Be the

r

a

i

n

b

o

w

in someone else's cloud"
Maya Angelou
Happy Monday everyone.
I hope you all had a lovely, relaxing weekend and are all ready to go again with another week of learning. All of the work is on the Home Learning link above and in the guidance is a link to a video that I recorded for you all. Please follow the link and have a watch.
Thank you to everyone who has already completed his or her secret mission! The final product is looking good so far and we are well on track to make sure everyone is involved. I am really looking forward to sharing it with everyone on Friday! If you have not completed your mission yet then please send it through to me in the next day or two.
Have a lovely week,
Mrs Noonan
24th April
"Learning is a treasure that that will follow its owner everywhere"
Chinese Proverb
Happy Friday everyone. Another week and another excellent effort from everyone to make the most of this situation, been calm, carry on, and be our best selves.
I have seen on all of the photos and messages you have sent me this week about the lovely activities you have been doing over the Easter holidays and the great learning you have been up to this week. For those of you who found getting back into the learning routine this week a bit tricky – keep going and give it your best effort.
This week seems to have actually gone by very quickly for me, I have been busy with work but also been spending time doing things I enjoy at the end of the work day including doing some online yoga lessons led by the excellent Miss Cook, cooking, reading and relaxing. I have also been spending time chatting online to my family. My family always keep me entertained and humour, silliness and jokes are always the centre of our best times together but they surprised even me this week when in our online chat they all started mooing like cows. I kid you not. Apparently in a small town near where I grew up people are mooing every night, don't believe me…https://www.bbc.co.uk/news/uk-england-derbyshire-52252003. Anything to but a smile on our faces right!
I have uploaded the work for next week onto the online Home Learning Link and in the guide is also a link to a short video to say hello to you all and keep an eye out for an email from me with a special secret mission for Reception.
Have a lovely weekend and I hope to hear from you all next week.
I miss you all!
Mrs Noonan
22nd April
"On Wednesday he ate through 3 plums…but he was still hungry"
The Very Hungry Caterpillar
I hope you have all had a fun, productive and happy Wednesday. All this lovely sunshine sometimes makes it tricky to stay inside and get some work done…but I hope you have all enjoyed some of your learning activities today and then have managed to get some fresh air and exercise in the sunshine too!
I've been reading some of your lovely emails this morning and seen some brilliant photos of work that you have been doing – I will upload all the pictures on Friday so we can share and see what we have all been up to.
A couple of extra resources to help you through the week:
'Coronavirus A Book for Children' is an e-book published this week to help explain COVID-19 to children.
'Coronavirus A Book for Children'
'Dave the Dog' is rhyming story all about Dave the Dog and Dotty the nurse.
SingUp is a resource we use a lot in Reception with lots of songs on all kinds of topics. They have playlists of many of their songs for free online for you to listen to and learn
They even have some of our favourite action songs we like to sing in class like
"Hey, My name is Joe" a very silly action song
"Dabbling Ducks" which is a song we learnt when we had the ducklings in our class
There is also a 'Song of the Week' which you could learn.
Have a lovely rest of the week!
Mrs Noonan
20th April 2020
"The Very Hungry Caterpillar story is about hope. You, like the little caterpillar, will grow up, unfold your wings and fly off into the future"
Eric Carle
Happy Monday everyone!
I hope you found the documents for Week 3 useful – remember start by reading the guidance and it should all make sense. Any questions please email me and let me know FAO: Mrs Noonan on communciations@stpetersce.lbhf.sch.uk . Also, please send me some updates of how you all are and what you have been up to over the holidays.
I hope you enjoy the work I have set you this week – The Very Hungry Caterpillar is one of my favourite books and I always love setting work around the book. It has a wealth of themes and subjects in it and as Eric Carle says in the quote above, above all it is a book about hope.
I hope all of the children are ready to get back into some work – if maybe this isn't at the top of their priority list then please remember my advice about a timetable. It can help structure the day, give the children a clear understanding of the expectations of the day and help everyone feel a sense of achievement. To help with this I have added a copy of the visual timetable we use in class every day that you can now use at home. It is a PowerPoint presentation and the first slide has instructions. It can be found in the online resources area or follow the link below.
Have a lovely day,
Mrs Noonan
17th April 2020
"One child, one teacher, one pen and one book can change the world"
Malala Yousafzai
Hello! I hope you have all had a lovely Easter break. Not the start we were all expecting to our final term in Reception…but we, as always, will carry on, try our best and make ourselves proud.
The work for Week 3 has been uploaded onto the home learning link above. I have create 2 documents for you to read over the weekend to be ready for Monday. Please read the 'Guide for Reception Week 3' and then have a look at the 'Daily Guide Week 3' if you wish to follow it.
I hope you have all be able to enjoy some of the lovely weather we have had over the holiday; I have been spending time cooking lots of food (including what seems to be the compulsory lock down banana loaf!) , watching some films and have finished two books. Please email and let me know what you have all been up to I would love to hear from you all. I hope you are all ready to get back to your activities and are ready to get back onto your timetables and learning.
Also just an 'FYI' Tom Hardy has recorded some new bedtime stories for Cbeebies each night next week...just thought that might be of interest to some of you and a date for your dairies.
I miss you all Reception! Keep in touch
Mrs Noonan
3rd April 2020
'Friday…I'm in love'
The Cure
Happy Friday everyone!
So what have we all been up to this week? I can tell you that lots of us have been very busy…we have had children sending in photos of lots of the work they have been doing this week including some excellent writing and making some amazing clocks. There have been people riding bikes, gardening, growing vegetables, making crafts, got some new lovely glasses, having 3D animals in their living rooms, science experiments, doing some exercise with Joe Wicks, baking (recipe included in the pictures), talking with a Princess and listing rhyming words. We have also had Ben start to look after some caterpillars…I wonder what will happen to them. I hope they aren't Very Hungry Caterpillars and eat all of your food Ben! Another brilliant bit of work has been some Dip Dap videos. Have a look below to watch some more episodes of our favourite program. Finally, I was so proud of one of our classmates on Friday morning when I saw this video of her riding a bike for the first time! Congratulations!!!
I have been spending the week doing lots of work during the day, checking my emails for all of your lovely messages and finding you the best possible work to be doing at home. I have also been doing lots of home work outs and some yoga, cooking some delicious food now I have time to follow recipes, speaking to my family on video chats and watching some films. However, what I have enjoyed most is my artwork I have been doing. I think I might need to order a new sketch book to be delivered as mine is quickly filling up.
The Draw with Rob video on Thursday was to do a 'world book day bookmark'. The bookmarks could be turned into anything you liked. Rob suggested that you could turn you book mark into one of your favourite things…so I could not just draw 1 book mark I had to draw 30 because as you are all some of my favourite things I made a class picture of you all as bookmarks. See if you can spot yourself!
Friday Fun playlist
Thanks to everyone who suggested a song for our playlist...I hope you all enjoy a good dance and sing song to these brilliant tunes!
| | |
| --- | --- |
| Name | Song |
| Miss Wheeler | Rather Be by Jess Glynn |
| Bart and Mrs Pond Jones | Happy by Pharrell Williams |
| Serenity | Let it Go from Frozen |
| Milena | Into the Unknown from Frozen 2 |
| Talia | Can't Stop the Feeling! by Justin Timberlake |
| Mrs Noonan | 'I wanna be like you' from Jungle Book |
| Ben | I like to move it move it |
| Alfie | I am a Gummy Bear |
| Nicky | Hakuna Matata |
| Harry | Shotgun by George Ezra |
| Rebecca | Higher Love by Kygo and Whitney Huston |
I have uploaded onto the Home Learning link some Easter activities. These are optional but I know that as some of you may still be working having some activities to keep the children busy will be helpful – so enjoy. There is a guide that I suggest reading first to help you understand what the documents are. The work for the week after the Easter holidays will be uploaded on the Friday before so you have plenty of time to organise your week.
Keep an eye out for an email with a link to some special messages later on today…
Have a lovely Easter break, keep safe, be kind and look after each other,
Mrs NoonanJ
2nd April 2020
"Thursday then Friday, It's soon gonna be the weekend"
Pet Shop Boys
I hope you have had a lovely few days since my last post. I have heard from many of you how you are getting on with your home schooling and I am so impressed. You are making me very proud Reception! The amount of hard work and time you are spending on your learning is fantastic! I will post all of the photos in a gallery I have had sent to me tomorrow. If you have any you would like to show everyone then please send them to me.
I have had a few requests for songs for tomorrow's playlist – please let me know what song you would like it would be so lovely to think of everyone finishing the day with a good boogie! Encourage your friends to send me their ideas so we have a great long list of songs to enjoy. To make this easy I am going to send you all a link to a shared document so you can see what your friends have already suggested and add your own.
Talking of songs the website 'Out of the Ark' are uploading songs every week to learn at home. Click on the link below to see the songs that you can learn at home
I am just about to catch up with the Draw with Rob videos – it looks like I have an alien and world book day bookmark to be drawing!
Have a lovely evening and I will update the blog again tomorrow,
Mrs Noonan
31st March 2020
"On a Tuesday, I'm gonna hug ya"
Etta James
I got a lovely surprise this morning when I arrived at a school – a letter. It was from Bart and told me all about what he has been up to. Thank you so much Bart.
I have already had lots of news and pictures from you all showing me what you have been up to which I will save and share in a gallery later on this week.
The first song request in for our playlist on Friday has been chosen. It is the classic…'Let it Go' which is Serenity's choice. What would you like on the list? Email me and let me know.
Mrs Noonan
30th March 2020
"It's just another manic Monday..."
The Bangles
Good Morning Everyone!
Happy Monday.
I have uploaded this week's learning and it can be accessed from the link above, and as requested by many of you I have included a document called 'Daily Guide', which may help give you week some structure. Please read this and the 'Guide for WEEK 2' before starting the work and hopefully you will have a clear understanding of the learning this week.
I hope that the weekend gave you all a chance to relax and chill. I have been baking (flapjack) and doing some more art work. I got quiet into the 'Draw with Rob' videos and have now completed all four of the pictures. Here are the three I completed this weekend. I am looking forward to tomorrow to see what character is next.
One idea I also had over the weekend was of a Friday Song List. On a Friday afternoon, at the end of the day, we have music request time. I started this with Reception classes a few years ago after going on a music-training course and the course leader pointing out the type of music children listen to in schools. The main three she said were…classical music (because teachers use it in the background to try and create a calm atmosphere in the classroom), Nursery Rhymes and Christmas songs! She posed the question 'when do we give time to listen to what the children like?' and, as a teacher who loves music, that thought has always stuck with me. Therefore, every Friday afternoon we have music request time. In the past our requests have ranged from artists like David Bowie, The Beatles, Taylor Swift, Pharrell Williams and have included classics such as 'Let it Go', 'Hakuna Matata' and 'I Wanna Be Like You'. So send me your choices on email and I will create a list to share on the blog on Friday morning and then on Friday afternoon we can all listen to our music requests playlist!
Happy learning today,
Mrs Noonan
27th March 2020
Happy Friday!
Well done to everyone for getting through the first week. It has been lovely to see your emails with your messages and some pictures of what you have been up to this week. Some great learning has been going on – keep it up for Week 2. I have put together all of the fabulous pictures that I have received in the gallery below. We had had lots more examples of great handwriting practise, Joe Wicks workouts, cosmic yoga and some beautiful art work.
After seeing some of your work I had a look at 'Drawing With Rob'. It was a new resource for me but I loved having a go myself…here is my St Peter's sausage dog! I think I'm going to try the 'Gregosaurus' next but I really hope next week he shows us how to draw the penguin from one of my favourite stories by Rob Biddulph 'Blown Away'. If you want to have a go yourself here is the link http://www.robbiddulph.com/draw-with-rob
As well as enjoying doing some art my family daily challenges have continued to keep me thinking. On Thursday my family thought I would have an advantage to order the following London attractions by number of visitors (2018) The National Gallery, Southbank Centre, Tower of London, Somerset House, National History Museum, V&A, Tate Modern, Royal Museums Greenwich, British Museum and Science Museum. I was surprised by the top 3. I won't give any clues but if you are interested in the order then let me know. Today is naming the 10 biggest (by area) counties in England.
Parents – the work for Week 2 will be uploaded on Monday morning to the Google Drive which can be accessed through the button above. I have included a document called 'Guidance for Reception Week 2'. Please read this document first as it will explain all of the activities for the week and hopefully all of the other documents in the folder will make sense once you have read this.
Have a lovely weekend,
Mrs Noonan
25th March 2020
Hello everyone,
I hope you are all well and enjoying your home schooling. Each morning I love reading your emails, looking at your pictures and seeing your videos updating me of what you are all up to.
So what have we all been up to? Toby sent me a fabulous video showing me all of the work he has been doing including lots of tricky looking maths questions, Talia has made lots of great 'Draw and Write' pages including an excellent 'Flower Tree' page, Cosmo has been being an architect, Bowen has been very busy doing PE, art and working on the home learning activities, Bart drew a brilliant full size 'Bart picture' and wrote labels for all the different parts of his body and Leon has been using the playdough to help his Maths work. I'm sure you have all been up to so much. Let me know and I would love to share more news. It doesn't have to be lots of pictures of work just a quick email would be great.
So what about you Mrs Noonan I hear you all ask... I have been doing work including writing the Arts Week newsletter which I am hoping to share with everyone later today, writing policies and finding more resources for next week to support your home learning. And after I have finished my work jobs I have been doing some yoga and home workouts, I learnt how to make banana ice-cream when I needed to use up some very brown bananas and had no eggs to make banana loaf which is usually how my old bananas get used and doing a bit of balcony gardening. Today, when all my work is done I am planning on doing some painting.
Another activity keeping my brain challenged is my family 'Daily Challenge'. My family are all self isolating in Derby so to help keep connected and our brains working we are setting challenges. Then each evening we speak in a video conversation and share our answers (or in my case the lack of answers most of the time). We trust each other that we are not googling answers. The last 2 challenges have been to 'name all 24 James Bond Movies' and 'list the last 12 teams to win the FA cup'. Mr N was helpful for the FA cup question and between us we managed to get 21/24 for the Bond films. Today's challenge is testing my geography as my Mum has set the challenge to 'name the 10 countries that alphabetically are between Haiti and Jamaica'. It's not cheating to happen to post the question on your class blog and then get clues from your class right…I'm asking for a friend ;) If you know a good question/challenge, I can set then let me know. Or if you want to try and complete the challenges yourselves parents then email me your answers.
I have heard from a few of you that at novelty of home learning is keeping the children enthused about the activities they are doing – while others are starting to get the frustration that inevitably would creep in to our days. How to tackle this…a timetable. This can be made on small pieces of paper, on a whiteboard or any other paper. In the morning, discuss what the day will involve. This helps everyone agree on the tasks, nothing comes as a surprise and allows for structure. I like to add a place to tick off when something has been completed, or if you are using something like post-it notes they can be removed from the list so a sense of achievement is felt. One of my other tricks is to also add smaller tasks (for me this is something like making a cup of coffee but for the children could be brushing teeth/getting dressed) which again gives a sense of accomplishment but for something that you would have (hopefully) done anyway.
If you have any other good ideas for making our days run smoothly then let us know and I will share them with everyone.
Well done to parents and carers who are working so hard – you are all doing an amazing job. I was reading some blogs online about peoples experiences of home schooling and the challenges you will be facing as parents and it think it comes down to the balance, keeping it educational, fun but above all beneficial for everyone and looking after everyone's physical and mental state of mind. You are all doing amazing!
One final thing to share with you all. During Arts Week Naomi organised for a brilliant singer Abi to come and sing with the children. She taught them a song with the following lyrics
"Nothing is impossible however hard it seems if we try our best
Nothing is impossible keep following your dreams and together we will pass every test!"
Words to live by…
Have a good day everyone.
Mrs Noonan
Arts Week
Watch the video below to see our final work we made during Arts week. Inspired by our favourite program Dip Dap the children made their own animations...
23rd March 2020
Happy Monday!
I hope you all kept safe and healthy over the weekend and are enjoying your activities at home. I've already heard from a few parents about the dough discos, name writing practise and storytelling that has been going on.
Remember if you have any questions about the work please email me and let me know.
There are loads of resources and so many companies/ websites offering there resources for free if you come across any good ones that I have not mentioned then please let me know so I can pass on the information.
One extra resource I wanted to highlight to you today was that 'Phonics Play' have opened up their resources to parents during this time. We use this great website in our phonics lessons. When using the games the main focus will be on the Phase 2 sounds as we haven't learnt all of the Phase 3 ones yet.
The username and password you will need for accessing these free resources is shared on the website.
20th March 2020
It is going to be so important that we all keep connected in the coming days and I would love to stay up to date with how you all are and what you are up to. Please email (FAO: Mrs Noonan to communications@stpetersce.lbhf.sch.uk) with your recent news, any questions and pictures/photos.
Parents, I am sure the children will be more than happy to take part in all of the learning activities but just in case they don't…then feel free to remind them that this is work from me and I would always expect them to do their best.
Children, I'm going to miss seeing you all everyday but remember some important things we have learnt so far in Reception that you may need to use while you are learning at home. Remember sharing is caring. We use good manners always. Sometimes we have to do things we do not like but the most important thing is that we always do our best. Try not to give up even when it might get tricky.
The uncertainty of the next few weeks is going to be tricky for all of us. I will do all I can to help and support us all through what is to come and if there is anything I can do or any support you need please let me know – we are all in this together.
Keep safe,
Mrs Noonan
"How many jelly beans?"
13/03/20
This week our lessons have been based on a book called 'How many jelly beans?' The children have really enjoyed learning through this book. In the book they get to see what large numbers look like, starting at 10 and going all the way to 1 Million! We have used the book to help us count amounts and then create some fantastic tally charts showing the most popular choice of jelly bean colour. The children created their own charts choosing flavours and then asked all of the children in the class which one they liked best. We found out that red was the most popular and is our favourite colour and green didn't even get a single vote!
Rockets
On Friday we enjoyed a Science workshop all about rockets! We learnt about air pressure and movement and then made our own rockets, which we loved playing with after the workshop. The children have brought their rockets home so enjoy some fuel powered fun over the weekend
World Book Day
The children all looked fantastic on World Book day. Take a look at this gallery to see the amazing costumes. We enjoyed reading so many books together on the day; we were treated to a story from Miss Tait and had a go at answering some very tricky questions in a special quiz based on all kinds of famous books. On the Friday we enjoyed a Shakespeare workshop and loved watching the whole school take part in a performance assembly at the end of the day.
Next Week is Arts week
We will be off our usual timetable next week….no phonics, reading sessions etc. but just Arts, Arts and more Arts. Throughout the week the children will be printing designs, learning circus skills, listening to story tellers, playing the drums, being photographers, taking part in drama workshops and looking at the work of Mark Rothko. What an exciting week!
Have a lovely weekend,
Mrs Noonan
Duckling Diary
Sunday 1st March
Good Morning
The ducklings had a good nights sleep again. We have been able to set up a live stream of the ducklings so you can see what they are up to all day long!
Click on the link below
Saturday 29th February
6.45pm
Falling asleep after finally finding a comfy spot..LIVE DUCKLING STREAM
6.30pm
Time for bed. Just like all of you the ducklings love a good story before bedtime. Tonight it was "Here we are" by Oliver Jeffers. A very helpful book for the ducklings to learn all about the world they live in. If you haven't read it yourselves it comes with a 5 quack rating from the ducklings.
4pm
Who is who?
We have 5 ducklings which the children have named Mr. Quack, Quacky, Cheeky, Cutie and Fluffy Wuffy. I'm sure the children will be able to tell exactly who is who from the 5 pictures below. There is one ducklings whose feathers are slightly lighter shade than the others, the first duckling to hatch is definitely the biggest one and the last duckling hatched is a little smaller than the others.
So after they have been for a swim the ducklings love nothing more than a good clean using their beaks to clean all of there fuzzy fluffiness (that is the technical term ;P)
1.30 pm
5 little ducks went swimming one day…At the moment the ducklings so not actually have their feathers. They are covered in a fluffy fuzzy covering which will eventually grow into feathers. Feathers are what make adults ducks waterproof but our little ducklings don't have that. So, when they go swimming they can only swim for a few minutes at a time as the water gets into their fuzz and they get quite wet (see photo evidence).
So after a few minutes they need to come out of the water then they use their beaks to rub off the water that has gone into their fuzz, have a big clean and go under the heater to warm up again. Over the weekend they will learn how long they can swim for and how to dry themselves after they have been for a swim, which means in our classroom on Monday we can set up the ramps and water tray so the ducks can go for a swim when ever they like.
10.30am
The ducklings safely travelled to Mrs Noonan's house last night. They were tired out from the adventure of moving so had a big rest, lots of cuddles and a big dinner before settling in for the night under the heated cover.
Early this morning, the ducklings were having a big breakfast and a clean. Later on today they might go for a swim so they can have a proper clean in all of their feathers and some exercise to get rid of all of their energy. Videos to follow later on this afternoon.
Mr Noonan is currently helping Mrs Noonan set up an online stream – which should go live tomorrow around 10am – where you will be able to see exactly what the ducklings are getting up to. Fingers crossed we get this set up for you all.
Friday 28th February
Our ducklings eggs were delivered on Tuesday morning. We spent the morning looking at books and learning all about how to look after our special visitors.
When they arrived they had already 'pipped'. This means that they had made the first crack in their eggs. By the afternoon they had pecked away at the shell, using something called the 'tooth', which is at the end of their beaks. Each duckling has to peck over 100 times to get out of the egg. Once they have cracked all around the shell they use their legs to push out of the egg. Have a look at the video of duckling number 5 breaking out of the egg.
When they first come out of the shell, the ducklings are exhausted. They also are quite wet. They stay in the incubator to dry off. They are ready to move to the brooder once they have fluffed up and had a big rest. We also needed to wait for at least two ducklings to be ready to move as they do not like being on their own.
By Wednesday morning, all of the ducklings were able to be in the brooder (the large tray). In that tray they have their food, water and warm cover where they like to sleep.
On Friday we were able to let the ducklings have a run around in one of our larger tuff trays and we could gently stroke them and watch them run around.
"A quacker of a week!"
Mrs Noonan
28/02/20
What a great week back after half term.
We also got 5 more additions to the Reception classroom. Our ducklings! After being incredibly patient the children were able to watch as the ducklings cracked out of the eggs and are now happily in their brooder where we can stroke them and feed them and watch them run around. They are incredibly cute – have a look at the Duckling diaries above for more information and keep checking the blog over the weekend more diary entries as the ducklings spend the weekend with Mrs Noonan at her house.
Poetry assembly
Well done to every child in Reception for such a fantastic performance in their first every Poetry Recital assembly. The children all learnt the words and actions beautifully, thank you to parents and carers at home for practising this as part of their homework.
DT Day – Music day
Musical instrument was the theme of this terms DT day. Every child in the school made their own musical instruments. In Reception, we made Rainmakers .The children learnt how to hammer in pins into their cardboard tubes. We did this so the beads inside would hit the pins and make our instruments sound more like rain falling. We then added stickers and tapes to decorate our rainmakers before finally adding some threaded beading for more detail.
Upcoming events
World book day – the children all need a costume from their favourite book and a copy of the book with them in school on Thursday 5th March. There will be a costume parade in the Scott hall at 9am.
Grandparent's day – I hope many of the children's grandparents or elderly friends will be able to join us on Wednesday 11th March in the afternoon.
Have a lovely weekend and keep checking the blog or duckling updates!
Mrs Noonan
" …and they lived happily ever after."
14/02/20
We have finally reached the end of this half term and what a great half term we have had. The children have thoroughly enjoyed the theme of Traditional Tales and have learnt so much. I have been able to observe some amazing story telling, role playing and measuring.
Homework
This week the news of Reception getting their first ever homework was met with CHEERS! Probably the first and only time in their lives they will be so excited about homework!
Reception are so exciting to get their brand new homework folders with their first piece of homework in. The children's half term homework is to learn the words for the poem we will be performing for the Poetry Recital assembly. The children will be learning a poem all about Spring Time. This is a link to the video of the poem to help you practise at home.
https://www.bbc.co.uk/cbeebies/watch/playlist-down-on-the-farm-poems#playlist
D-I-S-C-O
Reception had their dancing shoes on Thursday night at their first school disco! Another big thank you to our amazing Year 6 Buddies who really helped to look after the Reception children. The children danced their socks off and showed some of the amazing moves they have!
Science day
On Wednesday, we spent the day being scientist. We were trying to solve two questions 'can you paint without using a paint brush? And Can you move a pipe cleaner without touching it? Reception put their thinking caps on and were able to use magnets to help them do both of the challenges.
We used the magnets on the side of the containers to move the pipe cleaners and we learnt that the reason it worked was because of the metal inside the pipe cleaner. Then we used paper clips and a magnet to paint. We had a small amount of paint in the centre of our plates then we put the paper clip on the plate and used the magnet under the plate to move the paper clip which mixed the paint and make a picture. Have a look at the video to see how it worked.
Next half term is another busy one with lots of exciting things happening...and a few surprises!
Monday 24th Feb – Church Service – please join us in St Peter's Church at 9am
Wednesday 26th Feb – DT Day
Thursday 27th Feb – Poetry Recital in Scott Hall at 9am. Reception will be performing their poem 'Spring Time'
Wednesday 4th March – World Maths Day
Thursday 5th March – World Book Day
Monday 9th and Tuesday 10th March – Parent's Evening
Wednesday 11th March – Grandparents Day
Monday 16th – Friday 20th March – Arts Week
I am still looking for any volunteer's for Arts week. I would love to hear from you if you are able to help.
I hope everyone has a lovely, restful and enjoyable half term break. Can you believe we are already half way through the year!
Mrs Noonan
"Run, Run as fast as you can…You Can't catch me I'm the Gingerbread man!"
07/02/20
Our focus story for this week has been The Gingerbread Man. The children have loved listing all the characters that chase the Gingerbread man and then trying to warn him to stay away from that sneaky fox!
On Thursday morning, the children made their own gingerbread man. A huge thank you to Chef Andrew for helping us make the gingerbread men. The children helped measure out the ingredients, use cutters to make the shape of the gingerbread man and finally add some raisins for buttons. Of course, we had to make sure that these gingerbread men didn't run away and the only sure way to know that they don't is…eating them. We are pleased to say they were delicious!
Growing beans
Our mini greenhouses that have been hanging on our windows have started to grow. The children planted beans in the soil inside the bags 2 weeks away. Now the plants are growing so much we have been able to measure them each day to see how much they have grown. The children will be bringing their plants home next week so you can plant them at home and continue to watch them grow.
Parent Helpers for Arts Week
Our annual Arts Week is soon approaching. As in previous years I would love to get as many parents involved as possible. Arts week is running from the 16th – 20th March.
If you work in any area of the Arts (musician, artist, illustrator, dancer, photographer, actor, publisher, director, designer etc.) then we would love for you to be part of our week. You could come and speak to a class about your job and what it entails, come and work with groups of children to share your skills or run a workshop. Likewise, if you work for a company that is involved in the Arts, have any links to theatres, studios or organisations that could be involved in any way then please let me know.
Alternatively, if you are able to help yourself let me know about someone else! If you know any artists, illustrators, dancers, photographers etc. that you think would be a good addition to our week then please let me know and I will contact them.
Please contact me on communications@stpetersce.lbhf.sch.uk. I look forward to hearing from lots of you!
Returning borrowed clothes
Many children have spare sets of underwear/socks/tights in their bags in case of any accidents, if your child doesn't have their own clothing we do have spares in school. If your child has had to borrow some items from school please can you make sure they are returned as we don't have an unlimited supply. Thank you.
Homework
On Friday 14th February, I will be sending home the first homework! Homework will be sent home every Friday and will need to be completed and returned by Tuesday. In reception, homework will be very practical or a small recording activity that links to the learning we have been doing in class that week. Getting into the routine of completing homework each week is a great way of preparing the children for the transition into Key Stage 1. The homework each week will have one main activity and then an optional one. At the bottom of the homework will be a section for Parent feedback – in this box you can say how your child got on with the work or any things you notice about their learning.
The first homework will be a poem to learn. Each term the whole school learn a poem for a Poetry Recital. This is a special assembly on Thursday 27th February in the Scott Hall where all the classes will perform a poem that they have been learning. We will practice the poem as a class but please learn this over the half term.
Only 1 more week until half term, and we are half way through the year! It is another busy week so a big rest this weekend would be a good idea for everyone….including myself!
Mrs Noonan :)
"Who's been sitting in my chair?"
Daddy Bear
31/01/20
Goldilocks and the Three Bears has been our focus story for this week. The children have been retelling the story using lots of character voices for the bears and acting out the story in our role play area which has been transformed into The Three Bears cottage complete with different size chairs and bowls for porridge. On Wednesday, we had great fun making our own porridge. Before we made the porridge we guessed which our favourite type would be. 11 children thought they would like the plain porridge, 13 the sweet and only 1 person thought the salty would be the best flavour.
We then carefully followed the instructions and cooked the porridge. We then added the ingredients of salt or sugar to make the porridge just like in the story. After tasting the porridge the final votes looked like this
And after we had eaten up all the porridge the children all helped with the very important job of washing up and putting the microwave back in the staffroom before any of the teachers noticed it was missing! Have a look at the gallery to see our porridge making skills…and also see if you can tell when we were tasting the sweet or salty porridge by the faces we are pulling…
Next week we all need to be on high alert…I've heard rumours that a big bad wolf has been spotted near St Peter's…I hope he doesn't come and try and blow down our school!
As well as keeping an eye out for that pesky wolf we have a busy week in Reception coming up. The whole school are recognising Children's Mental health week and in reception we will be doing a few special activities to mark this week.
Have a lovely weekend
Mrs Noonan
"God saw all that he had made and it was VERY GOOD"
Genesis 1:31
On Wednesday we celebrated RE day at school. Each class were focusing on a part of the bible timeline and for Reception we were thinking about the creation story. We learnt about all of the things God created and made some artwork inspired by the beautiful world. In the afternoon Charles came and visited our classroom and read the creation story from the Bible and we all sang 'If I were a Butterfly' together. We also worked as a team to make a new display for our classroom. We made a beautiful world and added our artwork to show all of God's beautiful creations.
A Letter from the Giant
It is always exciting to get a letter in the post and on Tuesday we got a very big letter indeed.
The letter said…
Dear Reception,
Fee Fi Fo Fum! There is a lot of measuring to be done. Can you find things longer than my footprint? Can you find things shorter than my footprint?
Sincerely,
The Giant
p.s. How long are your feet?
Challenge accepted Giant! We had so much fun measuring the Giants footprint…it was 19 cubes long or 30 cm on the ruler! Then we measured our own feet using cubes and using a ruler. Have a look at our measuring in action.
Beans, beans, beans!
Last week we left some beans in water to sock over the weekend. On Monday we were very intrigued to see how the beans have grown! We then made our own little greenhouses, which are now stuck up, on our window, which means they will get lots of sunshine. Inside the beans are slowly growing…I wonder what they will look like next week!
Dough Disco!
One of our favourite activities this week has been when we have all had a 'Dough Disco'. For this activity, every child has a small piece of playdough and we follow actions, songs and disco moves to mould and shape the dough in lots of different ways – we've been patting, prodding, pinching and rolling. This is a great activity to help develop the children's fine motors skills and strengthen the muscles in their hands. Many of the videos we use are online so if you have some playdough at home why not have your own dough disco over the weekend!
Have a lovely weekend,
Mrs Noonan
"Fee Fi Fo Fum!"
The Giant
17/01/20
Reception has been so busy this week! We have been learning through the story of Jack and the Beanstalk. In Maths work we have been measuring everything! On Friday, we tested to see what it would be like to write like a giant! We also have put some very special (maybe magic) beans in some water. Over the weekend, they will be soaking up lots of water ready to be planted for our science experiment next week.
Our Trip to the Science Museum
On Wednesday, the whole class went on a trip to the Science Museum. The children all behaved beautifully throughout the day including walking to the station, sitting nicely on the tube and in all of our workshops. Thank you again to our parent helpers, we could not do the trips without your help. Once we got to the museum, we had some time exploring the Space section before going to the garden area. In the garden play area, we explored the amazing water area, experimented with different sounds and used our muscles to climb and build. Then it was a quick tasty lunch before we went to the Pattern Pod and did some more exploring with colours and textures. Well done the Reception on such a fun and educational trip!
The day that Mr Rob came…
We have to say a huge thank you to Rob. On Tuesday, he worked all day to put up some new display boards in our role-play area – which means that Mrs Noonan can get creative with the role-play area and not cover the wall in blue tac! We were so amazed to watch Rob as he started by getting all the tools he would need including two big real drills! We made sure everyone was safe by making barrier and talking about where we could and could not go. "But can we watch?" the children asked enthusiastically…of course! We watched Rob measure, cut and drill and attached the corkboards. The children were so inspired that Miss Wheeler searched all the way to the back of shed where we have put away the box of builder's equipment from our 'People who help us' topic and then the children got building themselves. Have a look at what they got up to…
A few notices…
PE lessons are back to normal next week.
The children brought home a technology questionnaire and wow note today please fill these in and return them to school.
Returning borrowed clothes
Many children have spare sets of underwear/socks/tights in their bags in case of any accidents, if your child doesn't have their own clothing we do have spares in school. If your child has had to borrow some items from school please can you make sure they are returned as we don't have an unlimited supply. Thank you.
Have a lovely weekend
Mrs Noonan
"Time to PARTY"
Sir Seven from Ten Town
10/01/20
Welcome back! I hope everyone had a lovely Christmas holiday and enjoyed celebrating the New Year. Thank you for all your kind messages and gifts for Christmas.
We are now well and truly back into the swing of things in Reception. It was lovely to observe how much more settled and grown up the children have become after their first term in school. The theme of this half term is Traditional Tales. We will be exploring all of the stories we know and love and hopefully learning about some new ones. We will be growing our own beanstalks, exploring the best materials to use to keep the Big Bad wolf away and seeing if we can get the porridge "just right"!
The children have been getting back into the routine of school enjoying their phonics lessons, learning about using scales to measure what is heavy and what is light and practising their Every Day Words. On Friday we had a lot of fun playing a directions game. The children had to help one of the characters from ten Town 'Sir Seven' get to the end of the maze by avoiding the obstacles. The children had to use directional arrows to help find him a path and when he got to the end it was "Time to party!" with some funky tunes! Have a look at how much fun we had…
PE Next week
Due to attending a sports competition on Tuesday Mr Cotton will be teaching the children's gymnastics lesson on Friday next week. Please bring the children to school on Friday in PE kits.
PE on Monday will be as normal.
Science Museum Trip
On Wednesday Reception will be going on our first trip of the year to the Science Museum. A letter was emailed to you all earlier on this week – please go onto parent mail to sign the permission slip. As stated in the letter we will need some parent helpers. On Monday I will look at the names of who has offered to help on the trip and inform you of who will be coming then.
Have a lovely weekend
Mrs Noonan
"Happy Christmas Everyone!
Reception Class
20/12/19
Firstly I have to say a huge well done to all the children in Key Stage 1 and Reception for their fantastic performance of the Nativity 'I'm Gonna Shine' the children all spoke, sang and danced brilliantly and shared the message of Jesus' birth to all of us. Reception sang their songs so well and really enjoyed joining in with the singing and actions throughout the show.
I hope you all have a peaceful, fun Christmas break – with lots of rest (I think we all need it!)
Have a lovely Christmas and Happy New Year!
Mrs Noonan
"Maybe Christmas doesn't come from a store, maybe Christmas means a little bit more…"
The Grinch By Dr. Seuss
13/12/19
Rehearsals are in full swing for our nativity performance of "I'm Gonna Shine". Thank you to all of the parents for bringing in the children's costumes in time for our dress rehearsal this afternoon. All of the teachers and children in Key Stage 2 loved watching the performance and all of the children did really well. Now only a few days till the real performances on Tuesday at 10am or 2pm. There are no tickets for the performance please just come along before the show to take a seat or find a space to stand.
As well as rehearsing this week the children have been in full creative Christmas mode in class. We have been making some special cards and presents that will be coming home next week. We all looked fantastically festive on Friday wearing our Christmas jumpers, thank you for all of the donations towards the Children's charity.
Can you believe it is the final week of term next week? The children are already a third of their way through the year. And what a brilliant term it has been!
One more very busy week to go…
Monday 16th – No PE lesson (due to Nativity rehearsals) please come to school in uniform
- All reading books will be collected in today
- Please return any library books you have at home
Tuesday 17th – No Gymnastics (due to Nativity)
- Nativity Performance at 10am and 2pm
- KS2 Carols by Candle light Service in St Peters Church 6pm, Reception are not involved but you may attend this service if you wish
Wednesday 18th – Winning House trip (The winning house will be informed today)
Thursday 19th – Reception and Key Stage 1 Christmas Party in the afternoon at school
Friday 20th – Christmas Church Service at 9am at St Peters
- School finishes at 2pm!
Have a restful weekend – we will need a lot of energy next week!
Mrs Noonan
"It's beginning to look a lot like Christmas"
Perry Como
06/12/19
This week in reception we gave been learning all about advent. We have a very exciting 'Happyland' Advent calendar which has a new character for our small world area behind each window, our favourite so far has been the Gingerbread man! The children have really enjoyed retelling the Christmas story in lots of ways in our room, making puppets and using the small world area. Our Christmas home corner has been a busy area of our classroom this week, having wrapped presents in Santa's Workshop the children have filled under the tree with presents and then had their own Christmas celebrations where they have been opening each other's gifts! We have also been singing a few times a day (Mrs Noonan has been singing songs in her sleep because we have practised that much!) ready for our Nativity.
I hope we see lots of you at our Nativity production 'I'm Gonna Shine' on Tuesday 17th December at 10am or 2pm in the Scott Hall. The children in KS1 and Reception have worked so hard to get this ready for you all and they are going to be brilliant!
House Dodgeball Competitions
Over the next week, within PE lessons, St Peter's will be running the first sporting House Competitions; the competitions will be house dodgeball competitions which will take place within our year groups. Each class will be divided in their house groups where they will compete against their opposing house groups to win the House Competition trophy. Each year group will have a winning house but the trophy will be given to the house with the most wins across the school; the trophy will be presented in one of our assemblies and each member of the winning house will receive a certificate. We hope that our sporting House Competitions will be an opportunity for all children to take part in competitive sport and represent their house. We will be organising a termly sporting competition and the trophy will be displayed in the trophy cabinet.
Dates for your diary and Christmas events:
Nativity play on 17th December at 10am and 2pm in the Scott hall
Carols by Candlelight on 17th December at 6.30pm in the Church (The reception children are not involved in this but if you wish to join the school community and celebrate Christmas with KS2 you are welcome to come and watch)
Wednesday 11th December is also our Christmas Dinner at school – yummy!
Friday 13th December is Christmas Jumper Day - come to school in your most festive attire and donations will be collected outside school in the morning for the charity Save the Children.
Wednesday 18th December House Trip, for the winning house in Autumn term – more details to follow
Friday 20th December is our Christmas service in the Church at 9am please come and join us.
…and don't forget we finish at 2.00pm on Friday 20th for Christmas.
Have a lovely weekend
Mrs Noonan
"Stick man, I'm Stick man that's me…"
29/11/19
We have loved learning this week and all of our work has been focused on 'Stick man' by Julia Donaldson. We started by listening to the story and looking at the order of when things happened to the poor stick man, we then used the sticks to do some height ordering from longest to shortest. Then we used the sticks to practise our positional language. After that we did a little bit of magic with googly eyes and PVA glue to turn a normal stick into a real stick man! The children were very creative with their designs.
Then on Tuesday morning, we went to Ravenscourt Park with our buddies and explored with our stick men. Year 6 learnt the whole book and performed it to us and then we went around the park making tree houses for the stick man and finding some more sticks we can magically turn into stick children and the stick man's lady love! A huge thank you to Year 6 for being so responsible with their buddies and for letting their imaginations run wild by encouraging the Reception children to come up with new and exciting adventures.
On Wednesday and Thursday, our focus was all about being a good friend. We spent some time rotating between some special friendship activities and choosing special friends to play with, we also tried to have turn playing with different people that we usually do. The children were all exceptionally kind to each other and are really starting to create some special friendships with many children in the class.
Don't forget…
Christmas fair this Saturday 30th November in the Scott hall!
I hope to see you all there come and visit me on the staff bottle tombola stand,
Mrs Noonan
"The environment is everything that isn't me"
Albert Einstein
22/11/19
On Wednesday, we loved taking part in Environment Day. The children worked in their house groups and took part in 4 activities throughout the day. In year one the children read the story 'Someone Swallowed Stanley' by Sarah Roberts which tells the story of a carrier bag washed out to sea. In the Art Room, the children were making artwork from recycled paper and working with Debra (a school governor) and some parents to make some beautiful decorations that will be sold at the Christmas Fair next week. In Year Two, the children were decorating their own St Peter's tote bag – which they all took home and we hope that he children will use this bag in place of a plastic one. Finally, in Reception the children were being litter pickers! Miss Wheeler was being a 'litter bug' (I can assure you this was purely for the learning experience – we all know in real life Miss Wheeler would never drop litter!) The children then went outside, armed with litter pickers to ensure they picked up every piece of litter they could find. On Friday we all wore something green with our uniform and donated towards the 'Just One Tree' charity – thank you for all your generous donations. In the afternoon on Friday the children were thoroughly entertained by the 'Big Pants Theatre Company' with their production of 'Plundered' which taught the children all about the importance of reducing, reusing and recycling plastic.
Superheroes
Following last weeks 'Superhero' Day at school we have created a superhero headquarters in our classroom. The children have been taking it in turns to be superheroes. They have been wearing their capes and masks, using the various computers and technologies available in the headquarters to help them save the world! Have a look at the gallery to see their heroic endeavours…
Stickman trip
Next week we are very excited that our Year 6 Buddies will be taking us on a Stick man adventure. On Monday we will be making our own stick men, (any donations of sticks around 20cm long would be greatly received) and then we will be going on our adventure on Tuesday morning.
Notices
Next Friday 29th November the children can wear their own clothes in exchange for bringing a donation of a bottle for the tombola for the Christmas Fair
The Christmas fair is taking place on Saturday 30th November between 2 – 6pm. I look forward to seeing you all there.
Have a lovely weekend,
Mrs Noonan
"You are stronger than you believe. You have greater powers than you know."
Wonder Woman
14/11/19
This week at St Peter's we have been learning about Anti-bullying week. In Reception, we have been focusing on being a good friend and talking about what we can do to be a good friend. The children have been brilliant all week, taking extra care to help others and share with them. Learning how to negotiate and work things out 'using their words' and trying to solve problems without always needing a teachers help.
On Monday, we took part in a 2 minute silence with the rest of the school on remembrance day. We used a brilliant video on Cbeebies called 'Poppies' that helps explain the war, through a very lovely little rabbit, to the children. Later on that day, we created a poppy each, which we have added to a vase in our reflection area to help us remember.
Is it a bird?…Is it a plane?...
No - its Reception on Superhero Day!
On Thursday, we loved taking part in Superhero day to help raise money for the Charity JDRF. The children all looked brilliant in their masks and capes. In the morning, the children thought about what they would like to have as a super power. Flying was very popular as well as being able to run so fast you could run on water! The children then loved playing all day as superhero completing super hero missions for Miss Wheeler and I and making sure they were helping everyone. The day was so popular that we have decided to change our role play area into a 'Superhero Mission Control centre' next week so the children can carry on their creative and imaginative play.
If that wasn't enough excitement for Reception on Thursday we also got to go to Movie Night! Thank you to the PTA for organising such a great effect.
And…speaking of saying thank you to the PTA we must say a huge THANK YOU to them for funding the new Reception outdoor clothes, wellies and storage rack. As the weather gets worse during winter we still want the children to be able to play outside whatever the weather. We have got some new 'all-in-ones' that the children can wear with our wellies to make sure they are nice and warm and can get as messy as they like without spoiling their uniforms.
Have a lovely weekend
Mrs Noonan
"Being in touch with the natural world is crucial"
David Attenbourgh
This has been another very busy week – but when do we ever not have one of those at St Peters?!?
On Monday we were exploring our natural areas of our outside classroom as part of our RE lesson on God's Creations. The children had a list of items to find in the outside area and then once they had ticked off the list then they created their own lists with all of the other natural things they could find. We spotted spiders webs, parakeets flying through the sky, flowers blossoming and woodlice. Have a look at the gallery to see what we got up to.
DT Day
On Wednesday we took part in our first DT day. DT days happen once per term and are based upon a theme. Every child in the school takes part and spends the day producing a product that fits the purpose of the day. No 'normal' lessons take place just lots of designing, making and evaluating. The theme for this DT Day was Nature. We were focusing on creating habitats for local animals and creatures. In reception, we each made a ladybird house and feeder.
The house and feeder can be placed in any outside area, ideally near a plant. Ladybirds are also great for eating aphids so placing the house near a plant susceptible to aphids would also be a good idea. The feeder can be filled with raisins, which apparently are a particular favourite for ladybirds. We have a large ladybird house and some extra feeders that we made which will be going into our nature area.
Any advice or ideas any of you have on how to keep the cats and foxes from using our nature area as a litter tray would be greatly received as we are struggling to use the area at the moment because of the mess being left by our night time visitors. House points for any successful suggestions!
Why did the teacher wear sunglasses?
Because her class was so bright!
We changed the role play area of our classroom to…a classroom. Complete with a computer and board, carpet area, phonics board and house point charts. The children have been loving being the teacher. We have been fairly taking it in turns by signing up to the list at the beginning of the day and using the 10 minute timer to help us to take turns. I have to say that the children make excellent teachers; getting the children to count aloud, running through the timetable spell some words and line up for lunchtime after saying their prayers. Miss Frazer might be calling up a few of them in the future!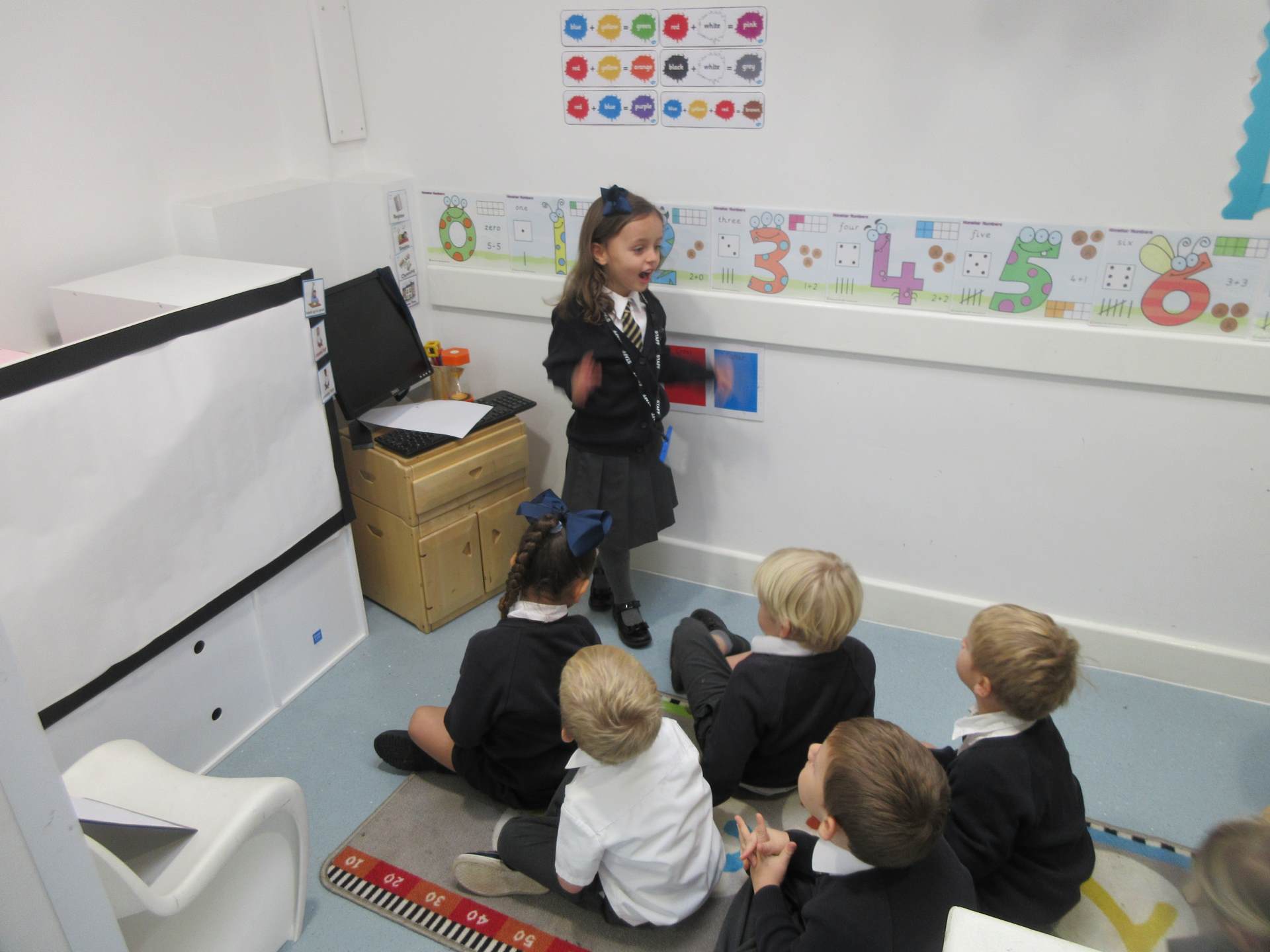 Upcoming events
As mentioned last week we have a busy week again next week the important things to remember are…
Wear odd socks on Monday
Add a cape or mask to your uniform on Thursday
Own clothes on Friday for Children in Need
Have a lovely weekend,
Mrs Noonan
"Coming together is a beginning, staying together is progress and working together is a success"
Henry Ford
01/11/19
Firstly, I hope everyone had a lovely half term break. I have been hearing from the children all week about some of the exciting things you all did. I had a very relaxing week at home, and now hopefully we are all ready for the next half term and the exciting lead up to Christmas! (I know - already!?!)
This week we have been getting back into our routines in school. We reminded ourselves of our school rules and have been working as a team. There is an ongoing competition between the teachers and the children. We have a connect 4 game which has green tokens for the children and red tokens for the teachers. When it is tidy up time a token can be won…if the classroom is tidy by the end of the timer then the children win a token, if it isn't then the teachers win. I'm happy to say that the children were the winners this week! Even though Miss Wheeler and I do not like losing a competition, we have a beautifully clean classroom, so maybe we are all winners!
Our Maths work this week has been all about 2D shapes. We have been creating shape pictures, using shapes to make patterns and creating some lovely artwork using shapes. We have been learning the properties of some 2D shapes including how many sides and corners they have.
On Thursday, we enjoyed attending our first Poetry Recital assembly. We loved listening to each class perform a poem and we were particularly proud of our buddies! The next Poetry Recital will be in Spring and it will be our turn to perform.
Parents Evening
Don't forget Parents evening is on Monday 4th November and Tuesday 5th November in the Scott Hall. Please remember that the appointments are for 10 minutes, if there are any issues that you wish to discuss in more length please let me know and I can arrange a meeting at a separate time. I hope to keep appointments on time so it is always helpful if you are aware of your time slot and between us we can keep the appointments running on time!
Poppies
Poppies will be on sale in the school office from Monday 4th November.
Changing for PE
On Monday and Tuesday, the class got changed at school for their PE lessons. I'm glad to say this was a success! The children all tried their best to get changed. One small request though…please practise shirt buttons at home. One trick we use at school is that an adult does the top 2 buttons and the child then has a go at the rest (this makes sure all of the buttons line up). Just a reminder that on Mondays the children come to school in their PE kit and will change into their uniform and on Tuesday the children come to school in a uniform and change into their PE Kit. The PE bags on Monday morning go into the 4 'house buckets' which are colour coded and also have the names of the children in each house displayed inside. The PE bags can then stay in school until the end of the day on Tuesday.
Dates for your diary…
As ever as St Peter's we have a full diary of upcoming events
Monday 4th and Tuesday 5th November – Parents Evening
Wednesday 6th November – DT day
Monday 11th November – 'Odd Socks Day' wear odd starts to start Anti-Bullying Week
Thursday 14th November – Super Hero Day. The House Captains of Fisher House have organised a day in support of JDRF Diabetes Charity. Add something to your uniform to be a super hero.
Friday 15th November – Children in Need (more information to follow from the School Council)
Thursday 21st November – Environmental Day
Friday 22nd November – Wear your own clothes day and bring in a £1 donation in support of 'Just One Tree'
Saturday 30th November – Christmas fair – Scott Hall from 2pm-6pm
Have a lovely weekend,
Mrs Noonan
"Education is the most powerful weapon which you can use to change the world"
Nelson Mandela
Black History Month
This week the entire school has been celebrating Black History Month. In Reception we have been learning about the stories of Anansi the Spider from Ghana. The children have learnt about how Anansi got his skinny waist and legs from being too greedy and enjoyed the story when Anansi showed the bigger animals that even the smallest of creatures can be strong and clever! Our favourite story was about Anansi's six sons. The children also used the beautiful art from the storybook/ to inspire some beautiful pieces of work. Have a look at some of our beautiful creations…
We also learnt some new songs this week including a Swahili action song 'Simama Kaa' have a look at Receptions fantastic performance.
Along came a different…
To help Reception engage in the important messages of Black history Month and 'Show racism the red card' we have been reading a story called 'Along came a different' by Tom McLaughlin. In this story there are lots of shape characters the yellow squares, the blue triangles and the red circles. At the beginning of the story we were shocked that the blue triangles wouldn't share with the yellow squares because they only like blue things and the red circles made a space that was for 'reds only'. But…along came a "different different!" This was a shape made up of lots of other shapes and was the most colourful shape there has ever been. Most importantly this "different different" shape likes blue, red, yellow and all of the colours and will share and be kind to everyone. The story finishes with the very important message…"being different is the best thing ever!" In our Art lessons this week we painted some of the colour shapes and then we learnt how to make other colours by mixing red, yellow and blue together. We then created our own 'different different' shape by working together in teams.
After half term
As promised after half term we will getting the children changed in school for their PE lessons (yes all 30 children at once!).
Please bring your children into school on Monday morning in their PE kits. Our lesson is at 9.30am and as we attend singing assembly we will not have time to get changed before the lesson. We will however have time to get changed into uniforms after the lesson. Then on Tuesdays the children have gymnastics in the afternoon. Therefore on Tuesdays we would like the children to come to school in their uniform and we will change them into their PE kits during the day which they will return home in ready for the next Monday.
So…more simply
Monday. Wear PE kits. Uniform in bag
Tuesday. Wear Uniform. PE Kit in bag
Art Competition
The Art Ambassadors are running an 'Art Competition' for the whole school to promote art and to celebrate the amazing art talents we have in our school. To enter the competition please make a piece of art based on the theme 'Fantasy' on an A4 piece of paper. Please write your name and year group on the back of your artwork. All entries must be given to an Art Ambassador or Mrs Noonan by Tuesday 29th October. There are prizes for 1st, 2nd and 3rd for both Key Stage 1 and Key Stage 2. Winning pieces of work will be displayed in the Art Room for everyone to see.
Reminder:
Come rain, sun, sleet or snow at St Peter's we will always have to walk to the hall for our lunch. Please make sure your child has a dark blue coat with a hood with them every day. Even if it sunny in the morning the weather can change during the day.
Have a lovely, restful half term
Mrs Noonan
"Words cannot espresso how much you mean to me!"
11/10/19
Reception Café
Our role-play area this week has been transformed into 'Reception Café'. The children have been taking turns to be cashiers, servers or customers. Children have been choosing carefully from our menus and making their orders. It has been lovely to hear all of the children asking questions, using beautiful manners and chatting to each other – because in Mrs Noonan's opinion there isn't anything better than a good old natter over a brew and biscuits.
On Monday morning, we enjoyed our first trip to Church for our collective worship for Harvest. Thank you for all the generous donations you provided. The children sat beautifully and loved joining in with all of the singing and listening to the prayers.
This week we have spent time thinking about God's creations, we learnt about the story of Creation and Adam and Eve. We then explored our outside area to spot things that God had created. We found lots of things! Luckily, we don't have any arachnophobia as we found a lot of spiders!
Reception Class Representatives
In Reception we have chosen our representatives for our school pupil groups. The children have been attending meetings over the last week and all reports say that they are doing and excellent job representing Reception.
School Council – Alfie and Serenity
Arts Ambassadors – Bart and Becca
RE Ambassadors – Milena and Leon
Eco Council – Tom and Sabine
On Friday morning our House Captains from Year 6 can and introduced themselves to Reception and tell them about the house charities that they will be raising money for over the coming year. Thank you to the House captains for coming to see us and your informative talk to the class.
A few reminders...
Reading Folders
Please bring your child's reading folder and yellow reading record to school every Monday and Thursday. There will be a large yellow bucket outside in the mornings for you to place the folders.
Library Books are changed on Thursdays (this is Receptions timetabled slot). We can only give children a new library book when they return the book they currently have on loan. Please also place the library bookmark given to your child inside the book as this helps us organise the library books ensuring the children take home the book they have chosen. There will be a purple box labelled 'Reception Library Books' outside on a Thursday morning to put your books in.
Names on Clothes
It's always after a few weeks and many washes that names in jumpers become trickier to read or are washed off. Please check that names in all jumpers (including PE) are clearly named. Thank you.
Black History week
Next week we are celebrating Black History Month in school. We will be taking part in workshops, listening to stories from different cultures and in Reception; we will be focusing on the story of Anansi and learning about the incredible Ruby Bridges.
Wear Red
On Friday 18th October we will be celebrating the national day for 'Show Racism the Red Card' on that day we ask children to add something red to their uniform, this could be a red hair bow, a red tie, red socks etc.
As I'm sure you have noticed the children are all getting quite tired at the end of a very long and exciting first half term at school, some big sleeps and lots of rest this weekend is what we all need (Miss Wheeler and Mrs Noonan included!).
Have a lovely weekend,
Mrs Noonan
"Doctor Doctor I feel like a bell….'
"Well take 2 of these and if they don't work give me a ring!"
04/10/19
A broken arms, sore tummy, banged head, broken fingers, blocked ears and 4 sprained ankles and that's only the aliments that Mrs Noonan has had this week! Luckily, the doctors in our role play area have been on hand with their bandages and medicines to make everything better again and make sure everyone is fit and healthy for the weekend. The babies from our home corner have all been to the baby clinic for their check-up where we have made sure that they are healthy by measuring and weighing them. The firefighters have been around this week again helping to keep us all safe and put out any fires they see. The children loved making their own fire engine to travel around in!
I'm surprised Miss Frazer hasn't had to come and visit the doctors this week with a headache after the builders have been working outside her office. The children, when pretending to be builders, have been hammering, screwing and sawing away to make some very impressive houses! They made sure they were safe with their hard hats and high-vis jackets on and worked brilliantly as a team! I'm sure Miss Frazer didn't mind when she looked out of the window and saw the amazing buildings they had created!
Miss Wheeler and I have been so impressed this week watching all of the children engage so brilliantly in their learning. They are sharing with each other, always remembering their manners and very importantly helping to tidy up after we have had so much fun learning! Maths this week has been looking at patterns. The children have been making and completing patterns using colour, shapes, and sizes. The children have been hugely impressive in their phonics lessons where we have been focusing on the letters s, a, t, i, m, o and p. The children have been writing words such as pat, tap, sat, mat, in and is. They are beginning to form their letters correctly and are using great segmenting and blending skills. Don't forget to look at the Sounds Write website for more information about the phonics scheme we are using and if you get a chance to download the app then the children can show off their skills to you at home.
Upcoming events and dates for your diary:
Harvest festival
Please join us on Monday 7th October 9am in St Peter's Church for our Harvest Festival. If your child is bringing donations for the festival then please bring them into school on Monday morning and the children will carry them over to church before making their offering at the beginning of the service.
Black History Week
The week beginning 14th October as a school we will be celebrating Black History Month. If you would like to be involved and come into school to help us celebrate please email and let us know.
Show Racism the Red card
On Friday 18th October we are asking all of the children to add something red to their uniform to mark the national event 'Show Racism the Red Card'. In Reception we will be focusing on how God made us all unique and celebrating what makes us special in our RE lessons.
Have a lovely weekend,
Mrs Noonan
"Hello, hello, hello…"
27/09/19
"999. What is your emergency?"
This week the children have been discussing all of the different people who help us and the things they do. Luckily our very brave firefighters were on hand and answered the call on Thursday when there were a lot of fires to put out – they worked together as a team to use our water pump to make sure that every bit of the fire had gone. The police have been on patrol around our classroom looking for anyone who needs any help, finding missing items and keeping any trouble makers at bay! Anyone who had an injury, tummy ache, broken arm or a headache has been safe at the Hospital where the doctors and nurses have been taking care of them.
In our RE work we have been thinking about what is precious to us. The children created pictures of the things in their lives that are precious to them. We also discussed how the world is precious and that we need to be thankful to God for our beautiful world.
Our learning
Our learning in phonics this week we have been using the letters s, a, m, i and t to write and read words. In Maths we have met members of Ten Town including King One, Tommy Two Thelma Three and Freddy Four. They have been helping us to count, find more or less of an amount and practise writing our numbers. We have also been making some patterns using shapes and colours. Why not see what patterns you can find at home?
Library
On Thursday, we were all very excited to get our own library books. The children have all been given a bookmark with their name on – please look after this, as it helps us know whose book is whose. The children can choose any of the books from the library and they enjoyed having a browse through the many shelves to find the right book for them. If you would like to take out a new book from the library please return, the book on Thursday (with the bookmark inside) and then the children will be able to return their current book before choosing a new one. We will not be able to give children a book until they have returned their current one.
Have a lovely weekend
Mrs Noonan
"Yo Ho Yo Ho! A pirate's life for me…"
20/09/19
We have had a lovely week in Reception. On Thursday we all dressed up as pirates and had a fantastic day full of pirate adventures! We met up with the other children in our houses and visited all of the other classrooms and teachers to take part in lots of pirate activities. We really enjoyed making friends with the children from Year 1 and 2 who are in our houses. Have a look at the gallery to see what we got up to.
This week we have also had our first PE lessons and Music lessons. The children were fantastic and all of their teachers said how well they behaved and joined in with all of the lessons. Thank you to all of the parents for remembering to put the children in their PE kits on Mondays and Tuesdays.
Phonics and Reading Meeting
Thank you to all of the parents who came along to the information meeting on Tuesday night. I hope everyone who came along found it informative. I have shared the information presentation to all of the parents – don't forget if you have any questions please come and see myself or Miss Wheeler. Our phonics lessons have started this week!
Bike to School Week
Bike to School Week is a week-long (23rd- 27th September 2019) event designed to showcase the benefits of cycling to school across the UK. Bike to School Week is a great opportunity to promote the positive impact that an active lifestyle can have on pupils' wellbeing and health. It's free, there's no need to register, and it's a fantastic way to get warmed up ready for Sustrans Big Pedal in the spring. During Bike to School Week we ask teachers to encourage pupils, parents and staff to cycle to school. To win, Sustrans invite you to download the free 'Guide to walking, cycling and scooting to school' and to take part in the photo competition; click the link below for more information.
https://www.sustrans.org.uk/campaigns/bike-to-school-week-2019/bike-to-school-week-photo-competition/
Have a lovely weekend
Captain Noonan
"The more that you READ, the more things you will KNOW. The more that you LEARN. The more PLACES you'll go!"
Dr. Seuss
13/09/19
What a great week! I am delighted to say that all of the children have settled in to Reception. It's been a lovely week of getting to know the children, firstly in their smaller morning or afternoon groups and then as a whole class. They are all making friends, both new and old, enjoying exploring all of the activities in our classroom and outside areas.
Photos from our first day at school...
Have a look at what we have been up to...
Buddy reading
The most exciting thing to happen this week was meeting our special reading buddies! Each child in Reception has been paired with a special friend in Year Six who will come and visit us each week to share books and stories. I would like to thank Year Six for being so sensible and having such a mature approach to their buddies and for being so kind and understanding when meeting their buddies for the first time. The children already want to know when they get to see their buddies again! Have a look at the gallery to see some pictures from our first buddy reading session.
Pirate Day! Arrrgh!!!
Next week our theme will be Pirates! Don't forget to come to school dressed up as a pirate on Wednesday 19th September. Also, if you have any pirate toys or books at home that we could borrow for the week please bring them in.
Phonics Meeting
I look forward to seeing lots of you at the Phonics and Reading meeting on Monday 16th September at 6pm in the Reception classroom. I will be sharing details with you about how we will be teaching phonics to the children which will help them to learn to read and write.
PE Lessons
PE lesson will be starting next week so please bring your child to school on Monday and Tuesday in PE kit. They will wear this all day – they do not need their school uniform.
Home Box
At the end of the day we will often put the yellow 'Home Box' outside. This is where the children can put the creations they make (pictures, collages, crafts) when they want to take them home. The children should all have written their name on the work so please have a look through and take their wonderful creations home.
Have a lovely weekend, you might have some very tired children who will need a big rest this weekend!
Mrs Noonan