ST PETER'S CE PRIMARY SCHOOL
History
'The more you know about the past, the better you are prepared for the future'
Theodore Roosevelt
At St Peters we teach an enquiry based history curriculum that provides a means for children to gain the skills and knowledge to become confident historians. Lessons will often start with a key question, encouraging the children to investigate a topic and find answers to historical questions with increasing independence. Using a range of primary and secondary historical sources and artefacts, children are taught that history is created from the evidence that remains and that the story of the past is told differently by different groups of people. Children learn to make judgements about the accuracy and reliability of the evidence, handling contradictions and understanding why these occur.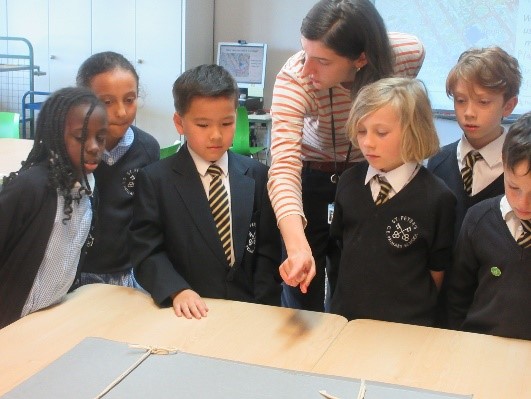 Through a carefully planned curriculum, children experience a wide range of topics including specific events such as The Great Fire of London, turning points in British history such as The Battle of Britain and thematic studies such as Crime and Punishment through the Ages.
We encourage children to learn through experience, and ensure that trips are organised to match with history topics, giving children the opportunity to experience historical sites and buildings first hand.
Curriculum Maps
Please see below for our Curriculum Maps, which give an overview of the topics your child will learn in each year group.
Knowledge Organisers
For more information about the current history topics your children are learning, click on the links below. These organisers contain include key information and specific vocabulary the children should know by the end of the topic.
Spring Term - Knowledge Organisers
Year 1 Knowledge Organiser - Explorers
Year 2 Knowledge Organiser - Animals
Year 3 Knowledge Organiser - The Stone Age
Year 4 Knowledge Organiser - The Tudors
Year 5 Knowledge Organiser - Multicultural Hammersmith
Year 6 Knowledge Organiser - Ancient Greece's influence on Western Civilisation
Autumn Term - Knowledge Organisers
Year 1 Knowledge Organiser - Toys
Year 2 Knowledge Organiser - The Great Fire of London
Year 3 Knowledge Organiser - Ancient Egypt
Year 4 Knowledge Organiser - Anglo Saxons and Vikings
Year 5 Knowledge Organiser - WW2
Year 6 Knowledge Organiser - Life and Achievements of Ancient Greeks