House Captain
When pupils arrive at St Peter's they are put into one of our four house groups. Our house groups, were named in consultation with the pupils and parents and are all symbols related to St Peter.
At the beginning of each academic year, the children in our Year 6 class deliver speeches to the rest of the school explaining why they should lead their house group during the coming academic year. The speeches are always extremely persuasive, giving the rest of the children a huge task in voting for their new captains.
This year the following children were elected to be captains of their respective houses:
CROSS
We are delighted to be the captains of Cross this year. We intend to work hard, listen to our team and earn lots of points. Our chosen charity for this year is Water for Africa. We chose this charity because we wanted to raise awareness about the issued faced for some people living in Africa who can't just turn on the tap when they want clean, fresh water.
FISHER
We are the house captains of Fisher and we are keen to ensure that Fisher is the very best house this year, in terms of behaviour and attitude to learning. Our chosen charity for this year is KIDS. We chose this charity to support children with disabilities; we want to enable these children to have the same access to activities that we do.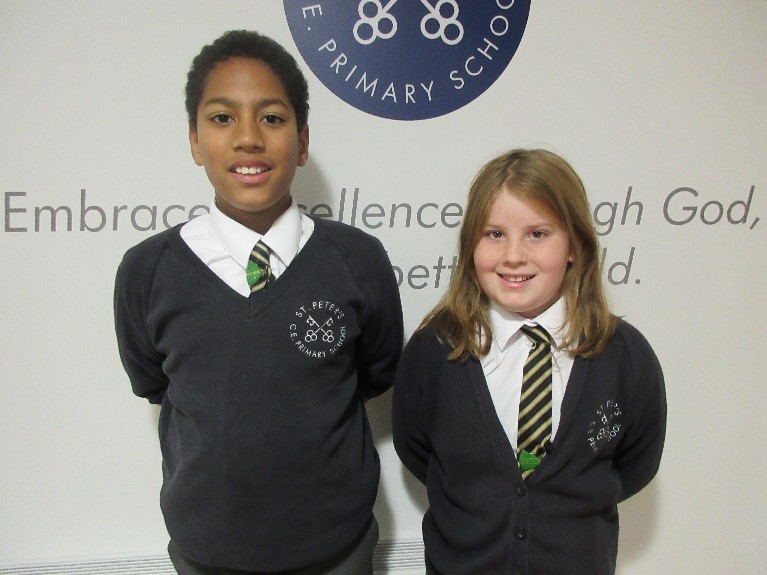 ROCK
Rock is the best house and we are thrilled to have been chosen as it's captains this year. We are hard-working and committed to ensuring that every member of Rock does their best to earn points for our team. Our chosen charity for this year is RNLI (Chiswick). We have chosen to support this charity because the lifeguards, who are all volunteers, risk their lives on a daily basis to save ours. Also, this is a local charity as many of the children at St Peter's live in the Chiswick area.
KEYS
Go team Keys! We are the captains of Keys and we are so pleased and proud to have been elected by the other members of our team. We promise to set a wonderful example to the rest of the team; to always be available to listen and to role models for others. Our chosen charity for this year is Whale and Dolphin Conservation. We chose to support this charity because these animals are endangered, we want to raise awareness of this and do everything possible to ensure that these animals are still around in many years to come.