Equality, Diversity and Inclusion
Our vision is to create a whole school culture which actively promotes equality, diversity and inclusion for all, and eliminates any conscious and unconscious bias among the school and wider community.
Reading is a powerful tool to educate our children about the diverse and beautiful world we live in. Check out the link below for a Diverse and Inclusive Reading List.
Diverse and Inclusive Book List
Our Equality, Diversity and Inclusion Strategy principles are to:
Create a clear vision and strategy principles that represent the needs of the school at present
Consciously commit to anti-discriminatory practice: challenge stereotyping and prejudice
Develop specific procedures for all prejudice related incidents
Monitor the implementation of equality, diversity and inclusion throughout the school
Implement and assess EDI coverage in curriculum subjects
Promote gender equality and non-discrimination based on gender orientation and sexual identity
Assess and revise Black History Month depth and coverage
Raise awareness for UK Disability History Month and explicitly teach disability awareness
Celebrate and educate staff/pupils/wider community on neurodiversity
Seek diversity within the staffing team and admissions of new pupils
Equality, Diversity and Inclusion Working Group
Two years ago, an Equality, Diversity and Inclusion Working Group was created to allow the school's EDI vision to come to light, and to make progress against the strategy principles. Please see the working group's terms of reference document below.
Please see the glossary of Diversity, Inclusion and Belonging Terms – this is not a comprehensive list but rather a starting point for conversation and learning.
EDI Parent Group and SEND Family Network
As well as the EDI working group, some wonderful parents from the school have created an EDI parents group and a SEND family network. These groups are an opportunity for people within our school community to come together and share expertise, chat freely, form friendships and offer support.
Book and Educational Recommendations
If you would like to explore EDI related topics further, we have devised a resource list that is compiled of a range of books, podcasts, websites and more. If anyone has any further recommendations, please contact Miss Cook via our school's communication system.
2022-2023
Dyslexia Awareness Week
October 3, 2022 - October 9, 2022 was Dyslexia Awareness Week.
For those who want to learn more about dyslexia, or who want to support their children further, the two informative websites below contain a wealth of free resources.
Black History Month
Saturday 1st October marked the beginning of Black History Month; a month that honours the history of black communities and recognises the great achievements made by black leaders, activists and icons, who have shaped life, as we know it.
This year, the children focused on four themes:
Black British History and Black History (the Windrush generation)
Significant Black Icons and Events
Anti-racism – this theme will be discussed through a range of age-appropriate stories
Poetry written by people of Caribbean and African descent (November's recital)
Our new music teacher, Jake Jones, taught the children a Windrush song as part of the whole school hymn practice, discussed the impact Reggae music has had on popular music today, and explored the debt many of our hymns owe to gospel/spiritual music. The children learnt/revised the classics Swing Low and Amazing Grace.
In art, the children in reception and Key Stage One explored artwork from the Ndebele tribe, as well as taking inspiration from traditional African patterns. In Key Stage Two, the children explored artwork by Australian Indigenous people and Torres Strait Islander people.
East and South East Asian Heritage Month
East and South East Asian Heritage Month takes place throughout September. This month is dedicated to honouring, recognising and appreciating East and South East Asian history and culture, as well as comprehending the rich cultural legacy of countries in East and South East Asia.
On Thursday 29th September 2022, a group of parents, Em, Joey, Irene and Zoe, put together and delivered a beautiful assembly honouring East and South East Heritage Month. Each child went home with a task to create a piece of origami a rabbit, moon or lantern.
Thank you Em, Joey, Irene and Zoe for your hard work, time and energy.
2021-2022
We are extremely proud of all the EDI events and learning which has taken place this academic year. Thank you to all those involved in the progress we have made this year - your time and energy is greatly appreciated. For an overview of our progress, and for our aspirations for the year to come, please see the document below.
Here are some of our celebrations and learning in more detail:
Family Supper
In May we were extremely excited to reintroduce our Family Supper event; a fantastic event to celebrate our school, and the wider community. This is a wonderful event where parents, children and staff come together to share our favourite foods, and dine together as one big St. Peter's family. This event was free and friendly, and for all take part in!
World Book Day/Week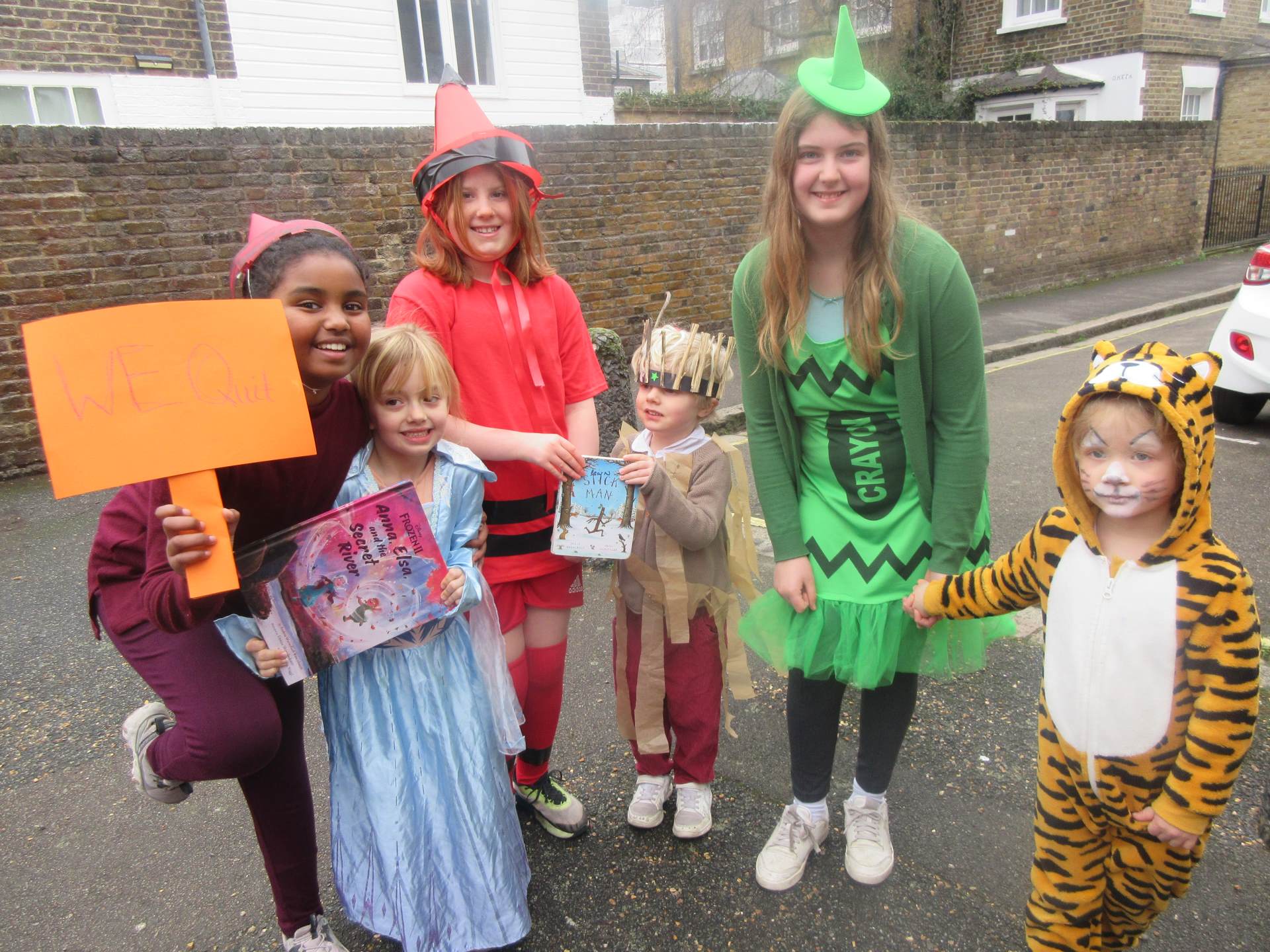 Fairy tales from different countries and cultures
Inspired by Michael Rosen and his incredible poems about familiar fairy tales with a twist, we based their English work for the week around a fairy tale from a different country and culture. The children read the story as a class and discussed the similarities and differences of the tale to other traditional tales that they knew. The children were then asked to 'Cook up their own fairy tale' based on the class text. It was a wonderful writing opportunity for children to learn about traditional fairy tales, give them a new life by remixing much-loved recipes and adding a touch of their creative magic. The children thoroughly enjoyed learning about different tales from a range of cultures.
Summer Fair
The PTA created an incredible summer fair this year. The SEND Family Network and the EDI parent group organised an AMAZING EDI stall full of brilliant activities for all. There was African dancing, sensory experiences, books from different cultures, delicious food and face painting - to name a few examples.
Carnival Day
In the Spring term, we had the pleasure of welcoming Fiona Compton, Notting Hill carnival ambassador, into our school. Fiona delivered a fantastic and informative assembly on the history of Caribbean Carnivals; she shared that carnivals are important because they symbolise the freedom and liberation of enslaved black people. She went on to discuss that Carnival is the one time in which all of the cadences and flows of the music rock your body and you can simply let loose – it is a big party for all!
Carnival as we know it in the UK is hundreds of years old. It was born out of the convergence of three movements of empire: the Spanish, the French and the British, after all three had colonised various Caribbean islands and enslaved Africans for centuries.
The children then made their own carnival masks using colour paper, card, sequins and glitter – lots of glitter!
Show Racism the Red Card
In the summer term, Year 4, 5 and 6 were very lucky to have a workshop with Anita, who was representing the charity 'Show Racism the Red Card'. She discussed the meaning of discrimination, racism and hate crimes. The children and Anita discussed the definitions and their differences, before moving on to discussing the relevance of these terms, and their importance in everyday life. She was able to engage with the children and talk about how everyone is influenced by stereotypes, and how that can lead to discrimination. We learnt that we should not just deflect, but participate in the conversation in order to create change. Through group and pair discussion, the children were able to discuss their knowledge and learn from each other. Both Anita and the children's teachers, were impressed with how well thought through their observations were and their mature reflection of their role in stopping and standing up to racism.
International Day of Women and Girls in Science
On Friday 11th February 2022 we celebrated International Day of Women and Girls in Science.
This is an important day to promote full and equal access to and participation in science for women and girls and to encourage equality in the STEM fields. Each class learnt about inspiring women in science.
Scientists are unique and special in their achievements; children in Key Stage Two also discussed diversity in science in relation to ethnicity and culture.
Here are the scientists that the children are learning about:
Reception – Jane Goodall
Year 1 - Joan Beauchamp Procter
Year 2 - Charlotte Armah
Year 3 - Mah Hussain-Gambles
Year 4 - Katia Krafft
Year 5 - Jo Shien Ng
Year 6 - Jassel Majevadia
Pete Reed
In January, Year 4 had the honour of speaking to three-time Olympic gold medallist, Pete Reed OBE (virtually). The session was truly inspiring for us all. Unfortunately, Pete suffered a spinal stroke in 2019, which has led him to be paralysed from the waist down. Pete's words of wisdom, courage and optimism were truly mesmerising. He spoke passionately about his beliefs and the lessons he has learnt through his experiences.
Pete believes:
1) The reality is that we will ALL suffer adversity in life, at some point.
2) Everyday positivity.
3) Be kind to yourself.
4) Dwelling is normal.
5) Failing is ok.
6) Being vulnerable makes you a stronger than ever.
7) Never Give Up.
8) Stay hydrated, eat healthy food, get exercise outdoors, enjoy sport with friends, talk to your teachers about how you are feeling, get to bed on time and sleep well.
Black History Celebrations
'Lack of knowledge is darker than the night.'
- African proverb
For this year's Black History Month study, we have decided to dedicate each week of learning to a specific theme. The first week focuses on black sporting Olympians, whose discipline and skill, has helped to shape sport, as we know it. The following week will celebrate black writers and poets; each year group will explore the narrative and features of an age appropriate book. The final week will be filled with a broad range of activities; there will be a strong emphasis on black British history and the local community. Moreover, we will explore and celebrate iconic black politicians, scientists, activists, philosophers and many more.
On Thursday 21st October, we will be wearing red to support the advancement of the anti-racism movement. At its core is education so at St Peter's, as well as showing our alliance, we will be taking part in age appropriate anti-racism workshops within our classrooms.
For more information, please see the Black History Month Overview and the Significant Figures Document.
Black History Month Overview 2021
Get in touch...
If you would like to get involved with any of our EDI groups or networks, or if you would like to get involved with any of the events planned for the next academic year, please do not hesitate to get in contact at communications@stpetersce.lbhf.sch.uk FAO: Miss Cook.
Thank you again for all your dedication and support.